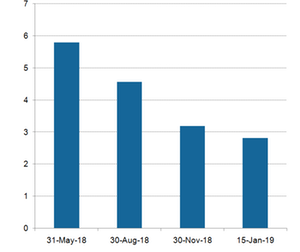 Is Micron's Stock Valuation Attractive for Long-Term Investors?
By Puja Tayal

Updated
Micron's stock valuation
In 2018, Micron (MU) moved from a memory uptrend to a downtrend in the second half of 2018, which reduced its earnings after it peaked in June 2018. Declining earnings impacted the stock price, sending Micron's stock down 40% and Western Digital's (WDC) stock down 50% in the second half of 2018.
The stock price of these companies fell faster than earnings, which impacted their stock valuation. A stock's valuation is calculated by dividing its fundamentals such as earnings, sales, and cash flows with its current stock price.
Article continues below advertisement
Price-to-earnings
The PE ratio tells us the amount investors are willing to pay per dollar of a company's EPS. As seen from the above graph, Micron's PE ratio fell from 4.5x on August 30, 2018, to 3.18x on November 30, 2018, as its stock price fell 26.6%, while its EPS fell 16% during this time period.
The stock price fell faster than EPS as investors feared that a cyclical downturn could pull the company into the red. Micron reported negative EPS in the past downturn of 2016 as it had a cost disadvantage over its larger rivals Samsung (SSNLF) and SK Hynix.
In the 2016 downturn, Micron's PE ratio fell from 41.03x on May 31, 2016, to zero on August 30, 2016. However, the company has improved its cost position and expects its EPS to remain positive even in the worst-case scenario. It intends to mitigate the impact of profit declines and maintain positive EPS by repurchasing stock.
Interpreting price ratios
Micron is currently trading at a PE ratio of 2.8x, which is way below Western Digital's PE ratio of 23.7x. Micron's PE ratio is expected to fall further in the next couple of months, making Micron an attractive stock for long-term investors, as it has strong fundamentals that can help it withstand the cyclical downturn and bring windfall gains during a cyclical upturn.
The anticipation of windfall gains has made some analysts bullish on Micron, as they expect the memory industry uptrend to arrive as early as the second half of 2019. We will look at analysts' comments in detail in the next part of the series.
Check out all the data we have added to our quote pages. Now you can get a valuation snapshot, earnings and revenue estimates, and historical data as well as dividend info. Take a look!