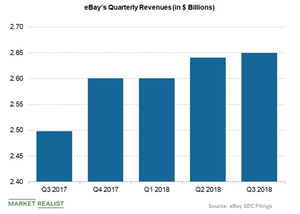 Is eBay's Revenue Growth More Sluggish Than Its Peers'?
eBay revenue trends and Q4 expectations
eBay (EBAY) posted revenues of $2.65 billion in the third quarter, in line with the consensus estimate. The San Jose–based eBay reached active buyers of 177 million in the third quarter, an increase of nearly 4% year-over-year or YoY, while it was up 1.1% sequentially. A rise in active buyers, in turn, resulted in 6% higher YoY revenues and an increase of ~5% YoY in eBay's gross merchandise volume of $22.7 billion.
Article continues below advertisement
For the upcoming fourth quarter, eBay expects revenue in the range of $2.85 billion–$2.89 billion, with an average of $2.87 billion, which is about 10.4% higher than last year. Organically, revenue is expected to grow 4%–5% in the fourth quarter of 2018. Analysts expect revenue of $2.87 billion in the fourth quarter. The company expects full-year revenues in the range of $10.72 billion–$10.76 billion, marking organic growth of around 6%. Analysts expect revenue of $10.7 billion in 2018, below the company's guided range.
Elliott's comments
According to a letter by activist shareholder Elliott Management on January 22, the company has underperformed its rival companies and the market for a very long time. eBay's revenue growth has lagged behind the growth of other Internet giants.
eBay posted revenue growth of 6% in the third quarter. In comparison, peer Amazon's (AMZN) revenue increased 29.3% YoY while revenue at eBay's former parent company, PayPal (PYPL), rose 14% YoY in the third quarter. Internet rivals Facebook (FB) and Alphabet (GOOGL) posted revenue growth of 33% and 21.5% YoY, respectively.
Elliott Management strongly advised eBay to sell its non-core businesses, including the StubHub ticket business, and its Classifieds properties to boost the company's value. According to the investment firm, eBay should focus only on its core business, Marketplace. In the third quarter, Classifieds revenue grew 8% while StubHub's revenue climbed 7% year-over-year. Marketplace revenue growth came in at 6% YoY.