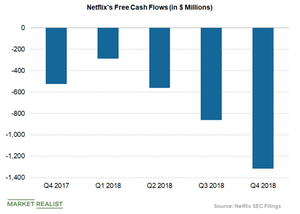 How Netflix Plans to Improve Its Free Cash Flow
Negative free cash flows
Netflix (NFLX) has been spending aggressively on high-quality original content, which has resulted in negative free cash flows (or FCF). In the fourth quarter, Netflix's negative free cash flow was more than $1.3 billion, more than double the negative cash flows of $524 million in the prior-year quarter and higher than the negative FCF of $859 million in the third quarter of 2018.
Article continues below advertisement
Article continues below advertisement
Netflix to continue to burn cash
Free cash flow was -$3 billion in 2018, which was at the lower end of the company's guided range of -$3 billion to -$4 billion. The company expects 2019 FCF to be similar to 2018 levels, as the company rapidly grows its spending on original content.
Further, the company expects to improve its free cash flows after that on the back of improving operating margin, which could in turn help the company to fund its investment with free cash flows internally.
Netflix's higher debt levels
At the end of December 31, 2018, Netflix had about $3.8 billion in cash and cash equivalents and around $10.4 billion in long-term debt. The company will continue to have higher debt levels to fund the company's investment in original content. The company's long-term debt-to-total asset ratio was 0.40x as of December 31, 2018, in comparison to 0.34x last year. The ratio signals that Netflix is dependent on more long-term debt to grow its business.
In comparison, Netflix's media peer Comcast's (CMCSA) ratio rose to 0.35x at the end of September 2018 from 0.32x last year. Walt Disney's (DIS) ratio has declined from the September 2017 level of 0.20x to 0.17x at the end of September 2018, which means that Disney is becoming less dependent on debt to run its business. Dish Network's (DISH) long-term debt-to-total assets ratio also declined from 0.51x last year in September to 0.46x at the end of September 2018.
Last week, Netflix announced a price hike of its monthly subscription plans by 13% to 18% in the US (SPY). The price hike is expected to boost the company's revenues and could also help the company to pay off its massive debt load.