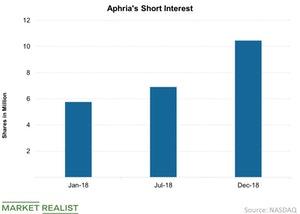 Gauging the Bullish-Bearish Sentiment on Aphria
Short interest
The short interest position on a stock is one quick way to gauge the bullish and bearish sentiment on a stock. A relatively high short interest ratio indicates that the stock has more bearish sentiment with a higher number of stocks sold short. Let's look at the short interest ratio for Aphria (APHA) and its peers (MJ).
Article continues below advertisement
The sentiment
The above chart shows the discrete short interest position in the three most recent six-month intervals ending December 2018. We see that the number of stocks sold short in December was much higher than the previous two periods, which indicates that the sentiment on Aphria is rather bearish compared to before. The current short interest on the stock was 4.2%. Canopy Growth's (WEED) short interest was 2%, while Aurora Cannabis (ACB) stood at 2.6%, and Tilray (TLRY) stood at 3.8%.
The potential of a short squeeze
When a lot of shares are sold short or when the number of days to cover the short position is relatively longer than average, there could be a potential short squeeze, meaning that if the share price rises significantly, short sellers would be compelled to cover their positions and get squeezed out.
The number of days to cover the short position is one indicator to determine the likelihood of a short squeeze. The current days to cover for Aphria stock was 1.3 days, meaning it would take about 1.3 days for all the short sellers to offload their investments. However, this was slightly lower than the 1.5 days to cover in July 2018 and almost close to January 2018's 1.3 days to cover.
On average, the current days-to-cover ratio was slightly higher than the 2018 average of 1.15 days to cover, indicating more likelihood of a short squeeze. In other words, this indicator could mean that Aphria's share could see some movement in the near term.
Aphria (APHA) is scheduled to release its second-quarter earnings on January 11. Read Aphria's Earnings: Analysts' Expectations Next Week.