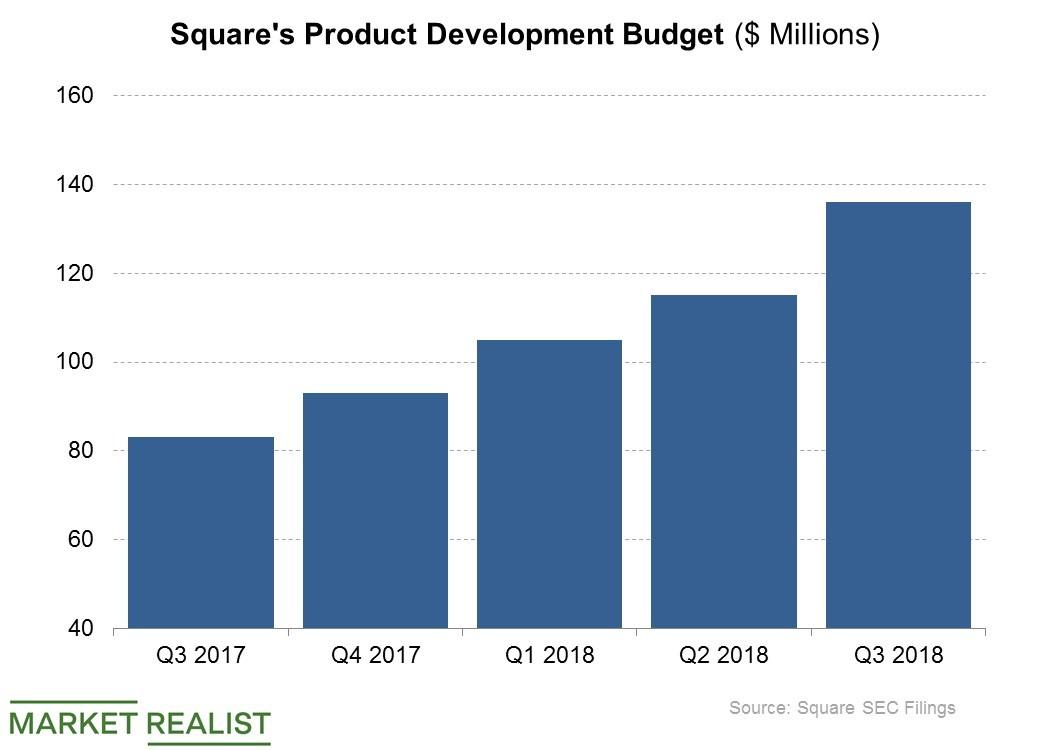 A Look at Square's Product Development Spending
Square spends 15% of its revenue on product development
In its quest to become the one-stop shop for financial solutions, Square (SQ) has made investing in product development programs one of its top priorities. In the third quarter of 2018, the company invested $136 million in product development, representing 15.4% of its revenue.
At PayPal (PYPL) and Amazon (AMZN), product development spending represented 7.3% and 12.7% of revenue, respectively, in the third quarter. Alphabet (GOOGL) and Facebook (FB) spent 15.4% and 19.7% of their revenues on product development programs, respectively, in the quarter.
Article continues below advertisement
Product development cost drivers
Square's product development spending in the third quarter increased 64% YoY (year-over-year). Its product development spending has been increasing in recent quarters driven by rises in costs tied to engineering, data science, and design.
Recent new product launches
The rise in Square's product development spending has been accompanied by its launch of new products and services to complement its existing offerings and expand its ecosystem. On January 9, Square launched a software tool that enables businesses to build payment capabilities into their customer-facing apps. The in-app payment software tool is viewed as ideal for businesses that operate outlet chains and want to give their customers more ordering and paying options.
On January 17, Square launched a debit card for business users in partnership with Mastercard (MA), allowing businesses to save 2.75% every time they make a purchase with sellers on Square's network.