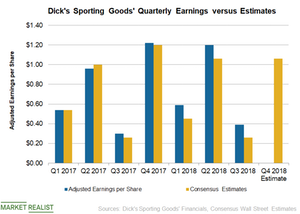 A Look at Dick's Sporting Goods' Bottom-Line Performance in 2018
Adjusted EPS performance
In the last ten quarters, Dick's Sporting Goods (DKS) has topped analysts' bottom-line estimates eight times and missed them twice. In fiscal 2018, adjusted EPS has beaten analysts' projections in all three quarters, and increased on a YoY basis.
The lowered tax burden has aided the bottom-line growth. It also has a stock buyback plan in place. Buybacks provide an upside to EPS. In the first three quarters of 2018, the company repurchased shares worth ~$290.0 million. As of November 3, 2018, stock worth $467 million remained under its existing repurchase authorization.
Article continues below advertisement
Dick's Sporting Goods also raised its EPS outlook for fiscal 2018. Management now expects fiscal 2018 EPS of $3.15–$3.25 versus the earlier range of $3.02–$3.20. It hasn't provided an EPS outlook for the fourth quarter. Analysts expect Dick's Sporting Goods' fourth-quarter adjusted EPS to be $1.06, representing a decline of 13.1% YoY. For fiscal 2018, analysts projected adjusted EPS to be $3.23, representing growth of 7.2% YoY.
Foot Locker's (FL) EPS beat analysts' projections and increased on a YoY basis for all three quarters. For the first three quarters of 2018, Big 5 Sporting Goods (BGFV) has beaten the EPS estimates in two quarters and missed on one occasion. On a YoY basis, EPS has deteriorated in all quarters.
Margin trends
Dick's Sporting Goods' gross margin contracted by 35 basis points in the first quarter but improved by 74 basis points in the second quarter. Third quarter gross margin expanded by ~70 basis points to 28.2% due to improvement in merchandise margins and changes made to the ScoreCard loyalty program. For fiscal 2018, the management forecasts the company's gross margin to remain flat on a year-over-year basis.
In the first and second quarters, its selling, general, and administrative expenses rose by 7.1% and 5.3%, respectively, but fell 1.5% in the third quarter. Dick's Sporting Goods is aggressively cutting costs and has projected cost savings of $25 million in fiscal 2018.
The operating margin fell ~40 basis points to 4.6% in the first quarter and the for the second quarter, it expanded ~10 basis points. In the third quarter, the operating margin was up 30 basis points to 2.9%.