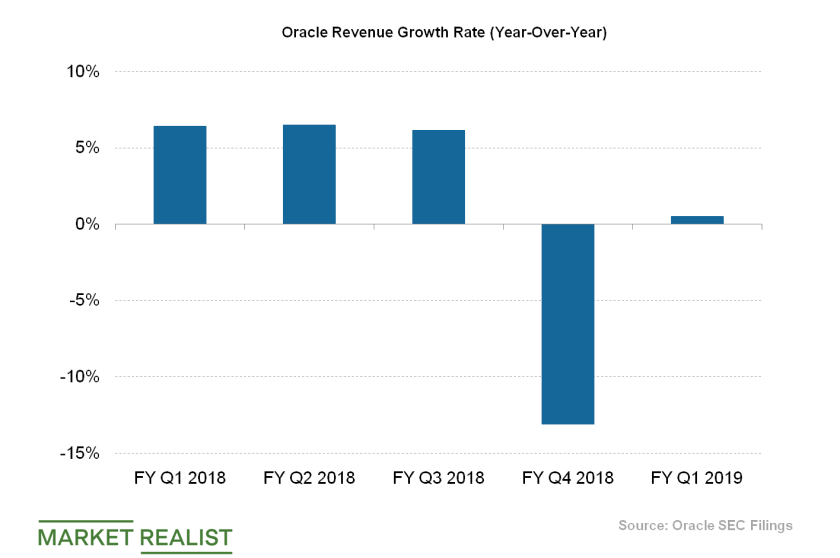 Why Oracle Considers the AT&T Deal One of the Biggest
AT&T's migration to the cloud involves petabytes of data
Last year, Oracle (ORCL) and AT&T (T) entered into an agreement through which Oracle will migrate thousands of existing Oracle databases on AT&T's network to Oracle cloud. The exercise was supposed to be a massive one for Oracle, as it involved migrating petabytes worth of AT&T data, making it one of the biggest ever business deals for Oracle. Oracle mentioned that it would finish this migration within the year.
Article continues below advertisement
Article continues below advertisement
Oracle needs such big business deals if it is to grow its revenue. The company's last two quarters didn't produce good results. After decent growth of ~6% in the first three quarters of fiscal 2018, Oracle's revenue fell 13% in the fourth quarter of fiscal 2018. In the last quarter, the first quarter of fiscal 2019, Oracle's revenue growth was a mere 0.5%.
Oracle won a few significant deals in the last quarter
Despite not having a good last two quarters, Oracle is optimistic that its client wins will help it return to growth in the upcoming quarters. In the most recent quarter, Oracle won an ERP (Enterprise Resource Planning) deal with Airbnb. Oracle mentioned that the Airbnb deal was a replacement for its Workday (WDAY) applications.
FedEx (FDX) was another important win for Oracle in the last quarter. FedEx bought ERP as well as Payroll software applications from Oracle. Oracle calls the FedEx transaction a strategic one, as it involved the replacement of its SAP (SAP) applications with Oracle's.
Oracle also won a few client deals for its ERP software in the financial industry in the last quarter, including the Federal Home Loan Mortgage Corporation and the City of Sunnyvale. Oracle also sold its Human Capital Management software to clients such as Marriott International (MAR) and Fortis in the last quarter.