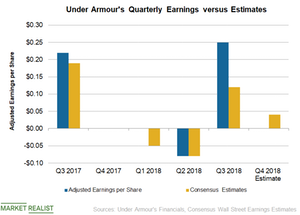 What Under Armour Is Saying about Its Bottom Line
By Victoria Dean

Dec. 17 2018, Updated 12:31 p.m. ET
Vision 2023
On December 12, Under Armour discussed its long-term prospects at an investor meeting. For 2023, the company expects EPS to grow at a five-year CAGR of ~40%. By 2023, the gross margin is likely to rise by 275 to 300 basis points to at least 48.0%. The company's operating margin is expected at a low double-digit percentage. Under Armour expects a return on capital invested of about 20% while its annual cash flow from operations is projected at $700 million by 2023.
Article continues below advertisement
CFO David Bergman said, "Focusing on sustainable, profitable growth while increasing returns on capital and generating substantial cash will empower our ability to deliver industry-leading innovation, compelling premium consumer experiences and drive toward our targets, while steadily increasing returns to our shareholders."
On account of restructuring measures undertaken in 2017 and 2018, Under Armour expects annual savings of $200 million from 2019 to 2023.
For 2018, the year-end inventory is now forecast to be down in a mid-single-digit rate. The earlier expectations were inventory levels either being flat or marginally declining. However, its adjusted operating income is forecast at $160 million–$165 million, versus $150 million–$165 million previously guided. The adjusted EPS is expected at $0.21–$0.22, compared to the earlier range of $0.19–$0.22. For 2019, the EPS are estimated in the band of $0.31–$0.33.
For 2018 and 2019, analysts expect adjusted EPS of $0.22 and $0.33, respectively.
A look at past trends
In the trailing 11 quarters, Under Armour has beaten EPS estimates eight times.
In the first quarter of 2018, Under Armour recorded breakeven adjusted EPS, beating analysts' estimate of -$0.05. Its adjusted EPS came in better than the -$0.01 reported in the same quarter last year.
In the second quarter, the company's adjusted EPS were -$0.08, in line with analysts' estimate of $0.04 but wider than adjusted EPS of -$0.03 in the second quarter of 2017. For the third quarter, EPS of $0.25 were better than the $0.12 analysts had projected and $0.22 reported in the same quarter of 2017. Higher revenue drove the bottom line in the third quarter.
For the fourth quarter, analysts expect Under Armour to report adjusted EPS of $0.04, better than the breakeven earnings reported in the fourth quarter of 2017.