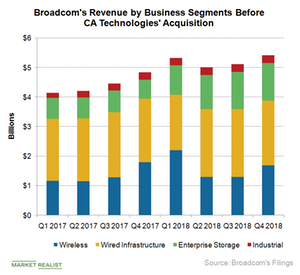 What Drove Broadcom's Fiscal 2018 Revenue?
Broadcom's fiscal 2018 revenue
Broadcom (AVGO) has grown its business organically and through acquisitions. The company completed the acquisition of CA Technologies in November but did not include it in its fiscal 2018 fourth-quarter earnings, meaning its fiscal 2018 earnings reflected only its Brocade Communications acquisition and organic growth from its existing businesses.
In the fourth quarter of fiscal 2018, Broadcom's revenue rose 12% YoY (year-over-year) and 8% sequentially to $5.44 billion, beating analysts' estimate of $5.4 billion. The sequential growth was driven by a 32% sequential increase in Wireless Communications revenue due to seasonal demand from Apple's (AAPL) 2018 iPhone models, which were launched in September. However, Broadcom's YoY growth was driven by organic growth from its existing businesses and the inclusion of its Enterprise Storage earnings.
Article continues below advertisement
Revenue by segment
Broadcom's earnings are more or less stable. Approximately 41% of its revenue is from its Wired Infrastructure segment, 23% is from Enterprise Storage (which has stable earnings), and 31% is from Wireless Communications (which has seasonal earnings).
Broadcom's Wired Infrastructure revenue rose 3% YoY as weakness in the broadband business was more than offset by 22% YoY growth in networking and computing, which account for over 66% of Broadcom's Wired Infrastructure revenue. The segment saw strong demand from cloud and enterprise customers. In comparison, Intel's (INTC) data center revenue rose by an unexpected 25% YoY in the third quarter, driven by increased infrastructure spending by cloud companies.
Broadcom's Enterprise Storage revenue rose 96% YoY to $1.27 billion as the company integrated Brocade's earnings. Excluding Brocade's earnings, the segment's revenue rose at a double-digit percentage rate, driven by increasing data center spending. Broadcom's Wireless Communications revenue fell 5% YoY due to overall weakness in the wireless market, and its Industrial & Other revenue rose 6% YoY, driven by strong demand for resale products.
Fiscal 2018 revenue
Broadcom's earnings have grown slowly sequentially, but its annual performance shows a different picture. Its consolidated fiscal 2018 revenue rose 18% YoY to a record $20.8 billion. Next, we'll look at Broadcom's profitability.
Check out all the data we have added to our quote pages. Now you can get a valuation snapshot, earnings and revenue estimates, and historical data as well as dividend info. Take a look!