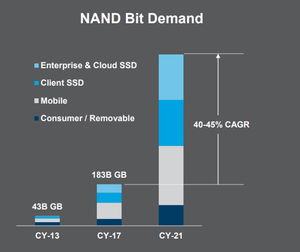 Micron Expects the NAND Industry's Oversupply to Continue in 2019
By Puja Tayal

Updated
Micron's outlook for NAND demand
Previously, we saw that NAND[1.negative AND] has elastic demand, meaning it rises when prices fall. As we enter a data economy, where every device generates data, the need for storage is increasing. Therefore, demand for high-capacity NAND flash solutions across data centers, PCs, mobile, and consumer devices is increasing.
However, as a CPU[2.central processing unit] shortage at Intel (INTC) and weak demand for high-end smartphones are impacting NAND industry demand, Micron Technology (MU) has lowered its forecast for NAND demand from 40% to 35% in calendar 2019. Micron had previously forecast NAND demand to grow 40%–45% compounded annually between 2017 and 2021, with some fast- and slow-growth phases.
Micron's outlook for NAND supply
NAND demand is expected to slow—not because of high customer inventory but because of high inventory at memory chip makers. The NAND market has been in an oversupply situation since the beginning of this year as NAND manufacturers are transitioning to 3D technology and ramping up their 64-layer 3D NAND production. This oversupply situation saw NAND chip maker Western Digital's (WDC) inventory grow sequentially at a double-digit percentage rate in the first two quarters of this year.
Even though NAND chip makers are reducing their output, Micron expects the NAND industry's supply to be higher than its demand next year. To align its supply with demand, Micron is reducing its NAND output growth from 40% to 35% in 2019 by cutting its capital spending. Other players, such as Samsung (SSNLF) and SK Hynix, may follow Micron and reduce their capital spending on NAND. Next, we'll see how Micron plans to improve its profits in the price-sensitive NAND market.
Check out all the data we have added to our quote pages. Now you can get a valuation snapshot, earnings and revenue estimates, and historical data as well as dividend info. Take a look!