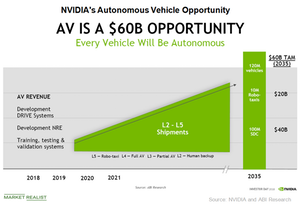 Intel and NVIDIA to Benefit from Autonomous Vehicle Trend
Semiconductor companies to benefit from autonomous vehicles 
The advent 5G (fifth generation) and AI (artificial intelligence) will make AV (autonomous vehicle) a reality in 2019. AV is one of the biggest trends all major semiconductor companies have been working on, as it creates an opportunity in the server, communications, memory, processors, and AI markets. Two chip companies that are at the core of AV are Intel (INTC) and NVIDIA (NVDA).
Article continues below advertisement
NVIDIA
NVIDIA has a three-stage strategy to deliver its end-to-end self-driving system:
In the first stage, it will develop a system like Xavier that would go inside the car.
In the second stage, it will train the system on DNN (deep neural network) and test and validate trained systems in a virtually simulated environment. This stage presents an opportunity for GPU (graphics performance unit)-accelerated data centers.
In the third stage, it will run trained, tested, and validated AVs on the road and continuously upgrade and improve the system while making this entire process productive on a large scale and for a long time.
NVIDIA estimates its AV TAM (total addressable market) to reach $60 billion by 2035, assuming that roughly 100 million SDCs, 10 million robotaxis, and 120 million vehicles would be on the road by then. On the other hand, Intel estimates its AV TAM to reach $100 billion by 2030.
Intel
Intel is leveraging its broad product portfolio to deliver an end-to-end AV platform.
Intel is using its subsidiary Mobileye's computer vision chips to collect data.
It is using its Xeon processors to get actionable insights from the data collected by Mobileye's vision chips.
It is using its 5G cellular modems, Wi-F/Bluetooth, and other connectivity chips to connect the vehicle to other vehicles, the network, pedestrians, and infrastructure.
It is using its nonvolatile memory solutions to deliver fast and reliable storage.
Other players with exposure to the AV market are Micron (MU), the leader in the automotive memory market, and Qualcomm (QCOM), the leader in 5G technology. Next, we will look at the trend of edge computing.
Check out all the data we have added to our quote pages. Now you can get a valuation snapshot, earnings and revenue estimates, and historical data as well as dividend info. Take a look!