Broadcom Restructures CA Technologies' Business Model
Broadcom (AVGO) has been growing its cash flow by acquiring companies that are market leaders with high cash flow.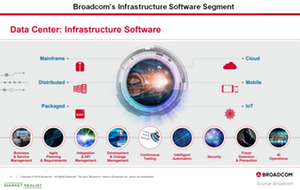 CA Technologies' business model
Broadcom (AVGO) has been growing its cash flow by acquiring companies that are market leaders with high cash flow. The company is known for successfully integrating businesses and delivering strong returns to shareholders. In fiscal 2019, it is set to integrate CA Technologies, which it acquired in November.
As part of the integration, Broadcom plans to change CA Technologies' business model and include its earnings in its newly created Infrastructure Software segment. CA Technologies licenses its mainframe products to the world's largest enterprises, which also spend the most on information technology. The company earns more than 70% of its revenue from its top 500 accounts, the customer base Broadcom seeks to leverage. Broadcom also tried to acquire Qualcomm (QCOM), to leverage Qualcomm's customer base and 5G technology, but the acquisition was blocked.
Article continues below advertisement
Article continues below advertisement
Broadcom's strategy for CA Technologies
During Broadcom's fiscal 2018 fourth-quarter earnings call, CEO Hock Tan stated that he plans to renew its existing enterprise software products within its customer base instead of bringing new products and drawing new customers. With this strategy, he plans to improve CA Technologies' operating efficiency and align its business model with Broadcom's.
The next question is how Broadcom plans to leverage its existing products and customer base. Tan explained that CA Technologies' licensing customers have been with it for decades. However, it offers expensive upfront perpetual licenses for its enterprise products, which not only increase incremental costs for customers but also prevent CA Technologies from realizing the full value of its mainframe tools.
Tan plans to change the licensing model to a fully ratable subscription model in which customers can use an "enterprise-wide all-you-can-eat license." He said the subscription model would help customers "save money by leveraging our broad mainframe portfolio to drive more conversions to CA tools." This model could also help Broadcom, as it would price mainframes based on consumption. Next, we'll look at the new business model's financial implications.
Check out all the data we have added to our quote pages. Now you can get a valuation snapshot, earnings and revenue estimates, and historical data as well as dividend info. Take a look!