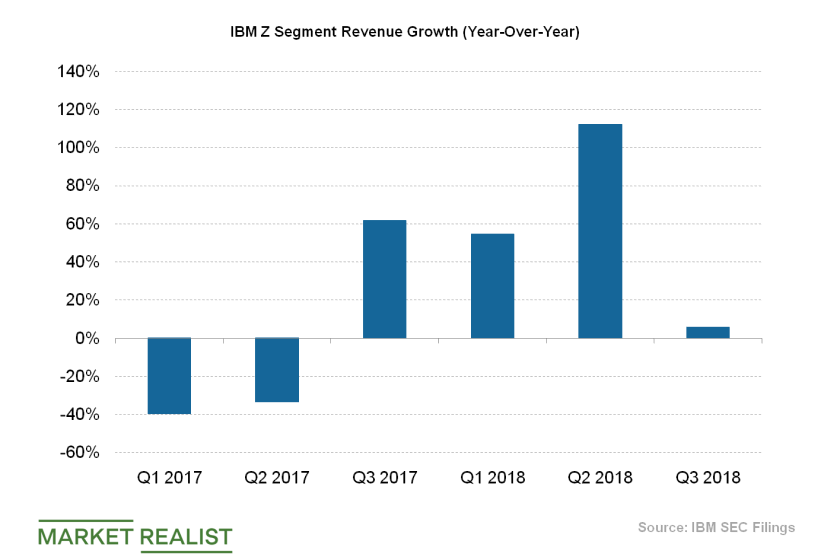 Why IBM Considers the z14 Its Most Successful Mainframe Launch
IBM's z14 has many improvements over its predecessor
Mainframes, large computers that can process billions of transactions daily, are mostly used by banks, retailers, and airlines. Last July, IBM (IBM) launched the z14 mainframe, adding to its Z family of mainframes. IBM considers the z14, which boasts several powerful features that will help add customers, to be its most successful mainframe launch ever.
The z14 has an encryption feature to keep data safe, of particular interest to government agencies, which IBM reports are adopting the z14 system. The z14 system is also designed to handle cloud workloads and cryptography processing, and IBM reports the z14 can handle 12 billion transactions a day. Overall, the z14 has many improvements over its predecessor, the z13.
Article continues below advertisement
Revenue from the z14 system grows quickly
The success of the z14 system has grown IBM's Z business segment revenue, as shown in the chart above. It grew 6% year-over-year in the last quarter despite having a difficult comparison with Q3 2017, when the z14 was launched.
IBM Z systems rank fourth among server hardware players, according to Datanyze. The Cisco (CSCO) Unified Computing System leads the market with a 29% share, reports Datanyze, and IBM System i and Nutanix (NTNX) are ahead of IBM Z. EMC Vblock and NetApp's (NTAP) FlexPod are some smaller players in the market.