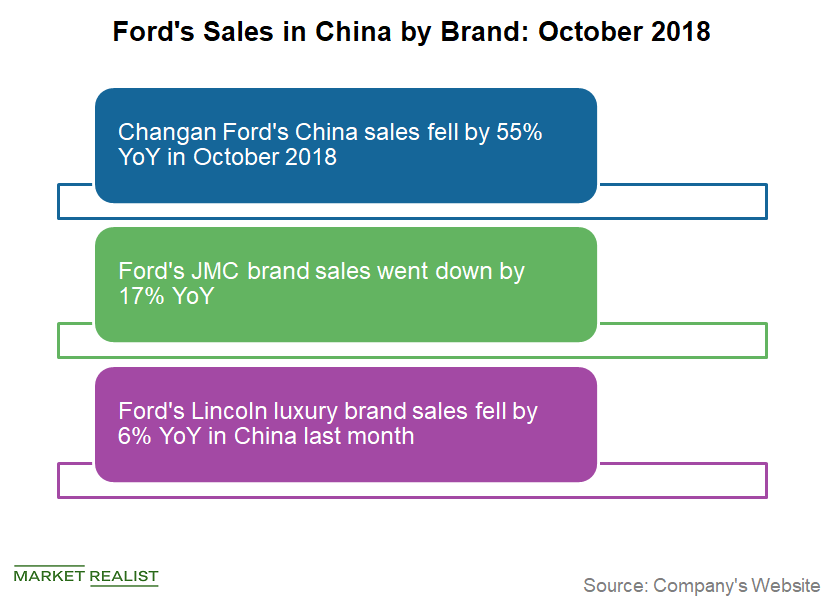 Why Ford's Lincoln Sales Fell 6% in China in October
Ford in China
In the previous part of this series, we looked at the second-largest US automaker, Ford's (F), sales in China in October. The company's weakening Chinese sales are likely to continue, taking a toll on the company's upcoming earnings. Now let's take a look at its Chinese sales by brand in October.
Article continues below advertisement
Chinese sales by brand in October
In October, Ford's Chinese vehicle sales (XLY) for its key brands were as follows
Ford's key brand, Changan Ford Automobile's, sales tanked significantly—by 58% YoY (year-over-year) to just 31,234 vehicle units in October. In 2018 so far, sales have fallen by a massive 41% YoY.
In October, Chinese sales of the JMC brand fell 17% YoY to 20,969 units. In 2018 so far, sales have fallen 6% YoY.
About 4,753 units of Lincoln luxury brand vehicles sold in China in October, down 6%. Previously, the brand's sales rose 2%, 13%, and 1% YoY in July, August, and September, respectively. On a year-to-date basis, Ford has sold 44,369 Lincoln units in China, up ~3% YoY.
In October, Chinese sales of Ford's total imported vehicles, including Mustang and Explorer models, fell 15% YoY to 1,248 units. Out of the last 12 months, October was the eleventh month of YoY weakness in the company's imported vehicle sales in China.
Falling Lincoln sales could worsen the situation
Ford's sales in China of nearly all its brands have deteriorated in 2018 so far—except for Lincoln sales. However, ongoing weakness in Lincoln brand sales like what we saw in October could make the situation worse for Ford's China business unit.
Mainstream auto companies Ford, General Motors (GM), Toyota (TM), and Fiat Chrysler (FCAU) primarily sell their vehicles in the Chinese market through their joint ventures with local Chinese auto companies. This strategy helps these global auto companies better understand the local consumer base and market.
In China, Ford has partnered with Changan Automobile Group and Jiangling Motors Group. GM has partnered with SAIC Motor Corporation while FCAU and Toyota have partnered with GAC Group in China.
Next in this series, let's see why Toyota is performing better than Ford in terms of Chinese and US sales.