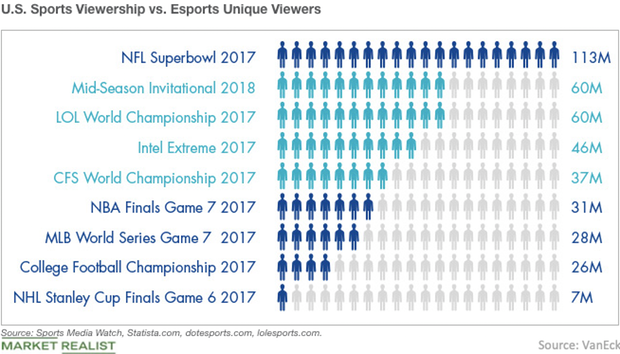 Why eSports Are Here to Stay
VanEck
Incredibly, the 2017 League of Legends World Championship attracted more viewers than the deciding games of the MLB World Series, the NBA Finals, and the NHL Stanley Cup that same year.5Esports gained another credibility boost in July 2018 when the International Olympic Committee hosted its first Esports Forum to build a better understanding of esports and explore future engagement with the industry.
Article continues below advertisement
Article continues below advertisement
Clearly, esports is here to stay. Though still in its infancy, esports is growing rapidly, and is projected to generate approximately $906 million in revenue in 2018, an astonishing 38% increase over 2017's $655 million.6By 2021, revenues are projected to reach upward of $1.7 billion.7In the context of all of this growth, the future certainly looks bright for the video game and esports industry, with total revenues projected to be as high as $165.9 billion by 2020.8
Market Realist
The 2017 League of Legends World Championship was extremely popular. A total 80 million people watched the semifinal between SK Telecom T1 and Royal Never Give Up.
The finals had a larger viewership than they did the previous year, also, at nearly 58 million unique viewers in 2017, compared to 2016's 43 million.
According to Riot Games, the 2017 League final screened for a whopping 1.2 billion hours versus 2016's 370 million. That's a massive growth in viewership. The 2017 LOL World Championship was one of the most watched esports events.
The rising esports viewership in arenas—as well as at home through Amazon's (AMZN) Twitch, YouTube and other websites—has doubled esports revenue from 2015 to 2017. Over 40,000 people attended the final of the League of Legends World Championship at the Beijing National Stadium—close in size to the audience for the 2017 Europa Cup Final between Manchester United and Ajax.