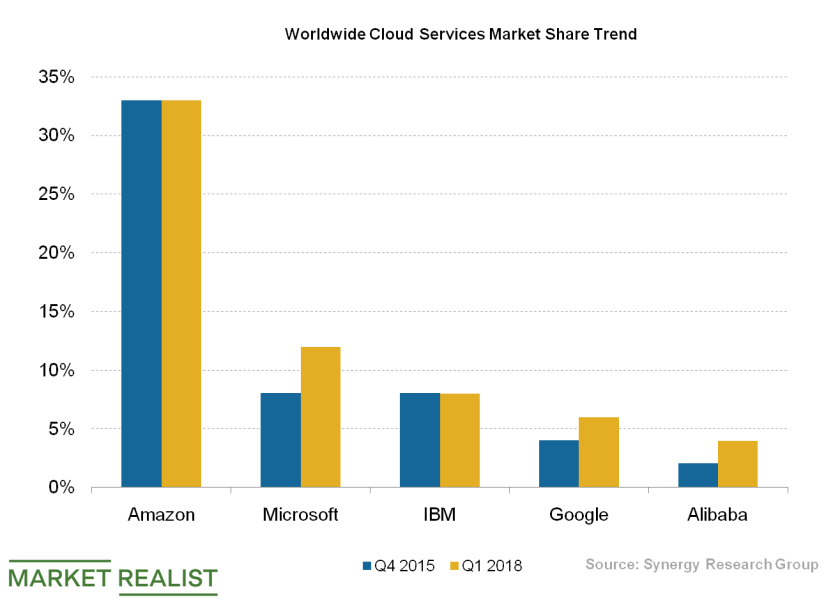 The Real Reason IBM Acquired Red Hat
IBM's acquisition of Red Hat was its largest ever
In October, IBM (IBM) shocked the world by acquiring Red Hat (RHT) for $34 billion, marking its largest acquisition to date. But why did IBM shell out so much money? The answer lies in IBM's desire to compete in the cloud service market, especially the hybrid cloud market. Red Hat, a cloud service and open-source software company, is also a leading provider of Linux operating systems.
Red Hat could give IBM an edge in the hybrid cloud space, a competitive market with growth potential. Red Hat, on the other hand, could scale up through the acquisition. For IBM, Red Hat provides an apt substitute to VMware (VMW), which has partnered with Amazon (AMZN) Web Services to offer hybrid cloud services.
Article continues below advertisement
Red Hat could grow IBM's cloud service market share
IBM likely has high hopes for Red Hat, as its previous purchase of SoftLayer for $2 billion failed to deliver. It acquired SoftLayer to compete with Amazon Web Services in the infrastructure-as-a-service market, though IBM did not gain as much market share as it may have liked. As the chart above shows, Amazon and Microsoft (MSFT) are way ahead of IBM in the worldwide cloud service market, and Google's (GOOG) and Alibaba's (BABA) market share is growing.
Microsoft's share of the cloud service market has increased from 8% to 12% in the last couple of years, while Alibaba's share has doubled from 2% to 4%. Both Microsoft and Alibaba gained market share at the expense of smaller players. However, among bigger players, only Amazon and IBM failed to gain any share in this market.