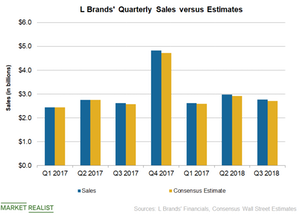 L Brands' Third-Quarter Sales Beat Estimates
By Victoria Dean

Updated
Sales performance in detail
L Brands (LB) reported third-quarter results on November 19, wherein net sales came in at $2.78 billion, a 6.0% increase on a YoY basis. Sales were better than the analyst estimate by 2.5%. Total Victoria's Secret sales decreased 0.7% to $1.53 billion, while sales for Bath & Body Works grew by 17.2% to $956.2 million. VS & BBW International segment sales rose 16.6% to $134.0 million in the third quarter.
L Brands' overall comparable sales for the 13 weeks ending November 3, 2018, rose 4.0% due to a 13% increase in Bath and Body Works' comps. However, comps for Victoria's Secret fell by 2%. In contrast, overall comps for the 13 weeks ended November 4, 2017, had declined 1.0%.
Article continues below advertisement
L Brands' flagship business, Victoria's Secret, remains in trouble. Sales have been impacted as consumers' preferences change. The company is now focusing on bralettes, which are very popular especially among the comfort-conscious millennials. The success of American Eagle Outfitters' Aerie brand underscores these changing trends. A relatively new entrant in the intimates space, Aerie's focus on a wide range of sizes and the hiring of plus-sized models have been received well.
To grow sales, L Brands is looking to re-enter certain categories like swimwear, footwear, and eyewear, which it had exited earlier. Also, it has discontinued the Henri Bendel brand. It is exploring strategic alternatives for its loss-making La Senza brand.
L Brands sales are likely to benefit from momentum seen in the company's digital business. It is also developing its beauty business, especially fragrances and mists. The third quarter was L Brands' sixth successive quarter of positive comps for the beauty business.
Performance of peers
For the third quarter of fiscal 2019, Urban Outfitters' (URBN) sales rose 9.0% on a year-over-year basis. Sales surpassed the consensus estimate by 0.6%. The top-line growth was driven by strength in three brands and strong retail comps.
For American Eagle Outfitters (AEO), the revenues are expected to grow 6.1% to $1.02 billion for the third quarter of 2018. Aerie, the intimate apparel brand is a strong performer, while the quintessential American Eagle brand remains sturdy.