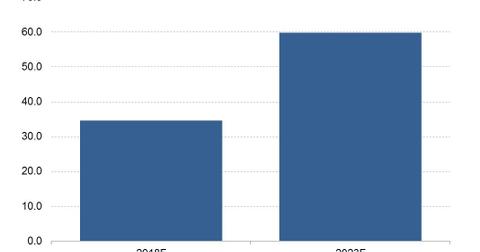 Key Updates on Facebook's Workplace
By Neha Gupta

Updated
Workplace
Workplace is not a secret Facebook (FB) project, but the company rarely discusses this business. During Facebook's third-quarter conference call last month, for instance, executives talked a lot about Instagram, WhatsApp, Messenger, and Oculus. But there was no mention of Workplace.
It was only after the conference call that word came out that Facebook is planning a major shift for Workplace. Sometime next year, Workplace is expected to occupy its own web domain separate from the public-facing Facebook social network. The Workplace team has its head office in London, more than 5,000 miles from Facebook's global headquarters in California. According to Workplace chief Julien Codorniou, Workplace is a Facebook subsidiary but has nothing to do with Facebook.
Article continues below advertisement
Shielding Workplace from storms
The idea of moving Workplace to its own web domain seems to further illustrate Facebook's desire to distance itself from Workplace and give the brand more room to grow on its own.
Facebook has recently been marred by reputation-trying challenges it would want to shield Workplace from, which could be a motivation for keeping the Workplace team far away and giving the business more autonomy. Workplace is a corporate networking platform. Companies pay to let their employees network and collaborate through Workplace.
Nearly $60 billion revenue opportunity
Facebook is chasing a $59.9 billion revenue opportunity with Workplace in the enterprise collaboration tools market. It is vying for this commercial opportunity with Microsoft (MSFT), which has Microsoft Team in the game, and Slack. Workplace charges start at $3 per month per user. Microsoft Team costs $60 a year, and Slack prices start at $6.67 a month. All these services have restricted free plan options. Slack has partnered with PayPal (PYPL) for a payment feature within its collaboration tool.
Facebook's Workplace has signed up more than 30,000 corporate clients including retailer Walmart (WMT), which has over 2.2 million workers globally. Last month, Workplace announced that GlaxoSmithKline (GSK) and Securitas were among its newer clients. GSK and Securitas employee 161,000 and 300,000 workers, respectively.