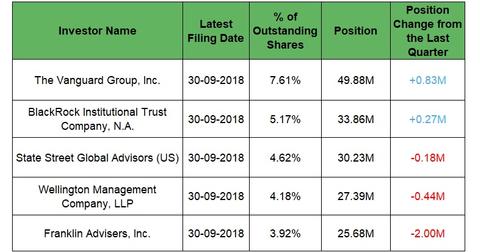 Institutional Activity in Dominion Energy in Q3 2018
By Vineet Kulkarni

Updated
Dominion Energy
The Vanguard Group is the biggest institutional investor in Dominion Energy (D), holding more than 7.6% of its total outstanding shares as of September 30. According to a recent 13F filing, Vanguard Group added 830,000 shares in Dominion during the third quarter.
Article continues below advertisement
Top sellers in Dominion Energy
Capital Research Global Investors was the top seller in Dominion Energy during the third quarter. It sold net 2.6 million shares and held 3.5% of Dominion Energy's total outstanding shares at the end of Q3 2018. Franklin Advisers sold net 2 million shares of Dominion Energy during the third quarter and held a 3.9% stake in the Virginia-based utility. At the end of the second quarter, it held 4.2% in Dominion Energy.
The privately owned Barrow, Hanley, Mewhinney & Strauss added net ~5.0 million shares and held 1.7% of Dominion Energy at the end of Q3 2018. It has been adding big positions in Dominion Energy for the last few quarters. During the second quarter, the investment firm bought net 6.2 million shares.
Dominion Energy is one of the fastest-growing utilities, but its ongoing acquisition of SCANA Corporation (SCG) weighed on its market performance this year. So far in 2018, Dominion stock has lost more than 10%, underperforming broader utilities (XLU).
To learn about Dominion Energy's third-quarter earnings, see Dominion Energy's Q3 Earnings Grew 11% YoY and Beat Estimates.