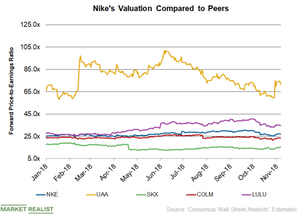 How Nike's Valuation Compares to Those of Its Peers
Forward PE ratios
On November 6, Nike's (NKE) 12-month forward PE ratio was 27.0x. Under Armour (UAA), Skechers (SKX), Columbia Sportswear (COLM), and Lululemon Athletica (LULU) reported PE ratios of 71.3x, 15.2x, 23.3x, and 34.6x, respectively.
In fiscal 2019, analysts expect Nike's sales to rise 7.6% to $39.2 billion and its EPS to surge ~11.0% to $2.65. Nike is working on enhancing revenues from Nike Direct and its international territories, especially China.
Article continues below advertisement
Growth estimates for peers' top and bottom lines
In fiscal 2018, analysts expect Lululemon Athletica's revenue to rise 21.9% to $3.2 billion and its adjusted EPS to jump 38.6% to $3.59.
For 2018, Wall Street analysts expect Under Armour's revenue to rise 4.1% to $5.2 billion. Its adjusted EPS are expected to rise 15.8% to $0.22. For 2019, Under Armour's revenue is expected to rise 5.2% to $5.5 billion, and its adjusted EPS are expected to rise 59.0% to $0.35.
Columbia Sportswear's top line is expected to increase ~10.0% to $2.7 billion in 2018 and 7.5% to $2.9 billion in 2019. Its adjusted EPS are expected to rise 21.2% to $3.61 in 2018 and 12.3% to $4.06 in 2019. Strength in its US business and its international operations is likely to drive its sales.
Analysts expect Skechers's top line to increase 12.0% to $4.7 billion in 2018 and 9.4% to $5.1 billion in 2019. Its EPS are expected to rise 3.9% to $1.85 in 2018 and 8.1% to $2.00 in 2019. Skechers is also looking to grow overseas.
Dividend yield
Dividend yield (the cash flow received for one dollar invested in a company's stock) is an important metric to use when making investment decisions. Nike's quarterly dividend payout stands at $0.20 per share. The company's most recent dividend hike of 11.1% came in December 2017.
Nike's current dividend yield of 1.0% is based on its closing price of $76.57 on November 6. Columbia Sportswear's dividend yield was 1.0% on the day. Skechers, Under Armour, and Lululemon Athletica do not pay dividends.