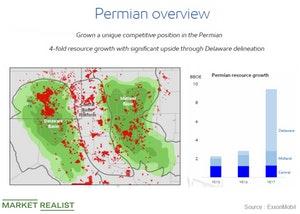 How Is ExxonMobil's Upstream Portfolio Positioned?
By Maitali Ramkumar

Dec. 4 2020, Updated 10:50 a.m. ET
Production expectation in 2018
ExxonMobil (XOM) has a sound Upstream portfolio. Before we review ExxonMobil's key growth assets, let's briefly look at the company's production expectations for the current year.
In 2018, ExxonMobil expects its production to stand at 3.8 MMboepd (million barrels of oil equivalent per day), lower than 4.0 MMboepd in 2017. In the first nine months of the year, ExxonMobil's production fell 5% YoY (year-over-year) to 3.8 MMboepd. Its third-quarter volumes also fell, as we discussed in the previous article.
Article continues below advertisement
ExxonMobil's robust upstream portfolio
ExxonMobil has a strong project pipeline. The company's key projects are expected to be operational by 2025 and should contribute ~50% of ExxonMobil's Upstream earnings. It's no surprise that ExxonMobil expects its Upstream earnings to triple by 2025 assuming oil prices of $60 per barrel. In 2018 year-to-date, average oil prices have stood at $67 per barrel.
The important Upstream assets expected to bring in growth include shale and tight assets in the United States, deep-water assets in Guyana and Brazil, and LNG (liquefied natural gas) assets in Papua New Guinea and Mozambique. These are reassuring projects with high upside potential.
In the Permian, ExxonMobil is expanding rapidly, with 38 rigs currently operating in the area. Tight oil production in the Permian rose 17% sequentially in the third quarter. The company's Permian resources have grown steeply in the past couple of years. It will continue to tap these promising resources to increase production in the region in the coming years.
Similarly, in Guyana, ExxonMobil had nine discoveries, which now represent more than 4.0 billion boe (barrels of oil equivalent) of estimated recoverable resources. One of the initial discoveries in the region, Liza Phase 1, is on schedule to begin production in early 2020. Further, ExxonMobil's low-cost LNG assets are getting set to tap the growing global demand for LNG.
Overall, though ExxonMobil's production is expected to decline in 2018, going forward, it's expected surge supported by a strong Upstream project pipeline.