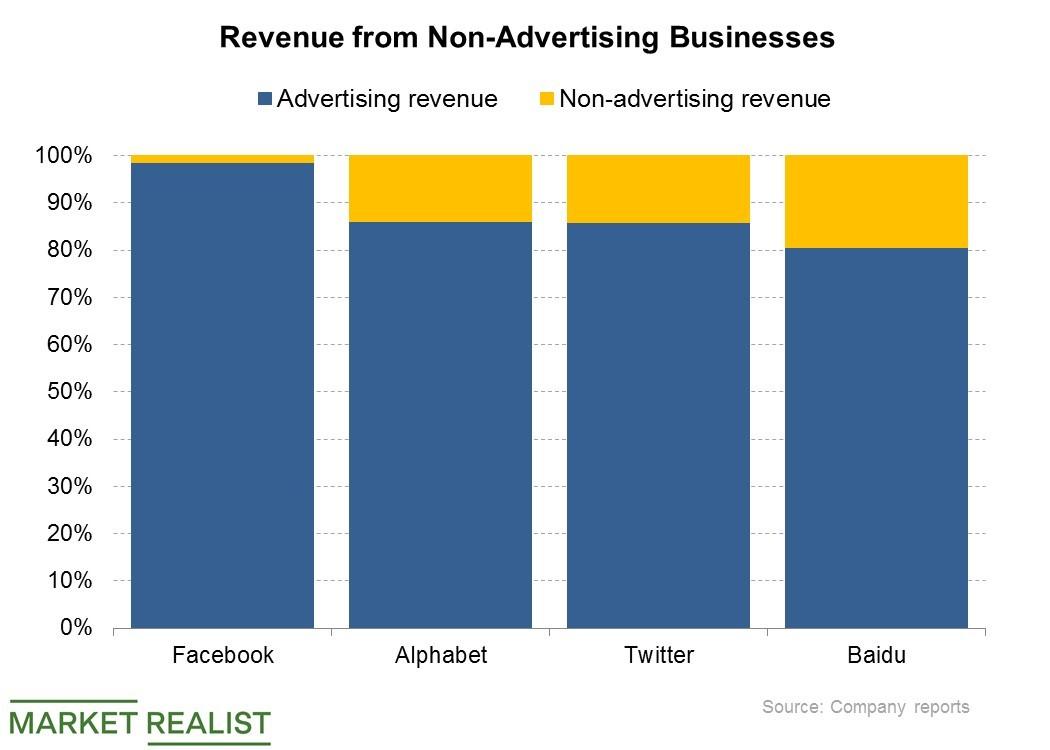 How Baidu Is Leading Alphabet in Business Diversification
The pursuit of nonadvertising revenue
Baidu (BIDU) and Alphabet (GOOGL) are working to create new revenue streams outside their core advertising businesses. Baidu's pursuit of nonadvertising revenue has seen it venture into the development of self-driving vehicles, the sale of cloud services, and the purchase of stakes in companies operating in the nonadvertising industry.
For example, Baidu is an anchor investor in Foxconn Industrial Internet, which went public earlier this year. Baidu also owns a large stake in iQiyi (IQ), the so-called Netflix of China.
On its part, Alphabet's pursuit of nonadvertising revenue has seen it expand into the self-driving taxi business and the sale of cloud and hardware products, among other endeavors.
Article continues below advertisement
Baidu runs a more diversified business
Nonadvertising operations accounted for 19.5% of Baidu's total revenue in the third quarter. At Alphabet, nonadvertising businesses accounted for only 13.9% of total revenue in the quarter. In the same period last year, nonadvertising businesses contributed 14.3% of total revenue at Baidu and 13.3% of total revenue at Alphabet, showing that Baidu had fared better than Alphabet in diversifying its business in the span of one year.
Race to diversify business
Other heavily ad-funded companies such as Facebook (FB), Twitter (TWTR), and Snap (SNAP) are also seeking to diversify their revenue sources. Facebook makes a wide range of hardware products, including a smart speaker device called Portal it launched last month.
Snap sells camera-enabled sunglasses called Spectacles. On its part, Twitter generates nonadvertising revenue by licensing its data to developers and marketers.
Facebook, Twitter, and Snap currently rely on advertising sales for 85% of their revenues.