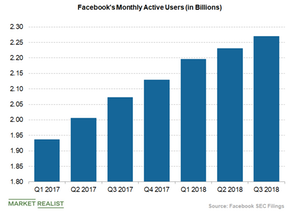 How Are Google and Facebook Planning to Fight Fake News?
Social media giants facing issues
Internet giants such as Facebook (FB), Twitter (TWTR), and Alphabet's (GOOGL) Google have been facing pressure from lawmakers in the US and Europe since last January. The companies were blamed for the spread of fake news and incorrect political information on their platforms. The companies were also deemed to be responsible for allowing Russian-backed accounts to influence the 2016 presidential elections.
Article continues below advertisement
Google, Facebook, and Twitter preparing to combat election interference
Google has reportedly planned to introduce a verification system to check election interference in the European Union ahead of the elections in May 2019. Google has plans to make sure that European Union (EZU) election advertisers disclose their identity and say who is paying for the election ads.
Facebook also tried to make its UK political advertising transparent in October, allowing political advertisers to disclose their location. The company also created a voluntary system that shows who paid for particular advertisements. The company had planned to make the project compulsory by November 7 but had to delay it for one month due to doubts about the effectiveness of the project.
Twitter is also making efforts to let US political advertisers disclose who paid for ads. Twitter also requires that disclosures should be linked to an employer record, thus preventing fake identities.
Pressure on the data-extracting companies
After Facebook's Cambridge Analytica data leak scandal in March, US and UK lawmakers began to put pressure on data-extracting companies such as Twitter, Facebook, and Google to become more transparent in their business operations and data-sharing policies. The European Union has also implemented its new General Data Protection Regulation (or GDPR) on data protection and privacy to give users more control over their online data.
The GDPR law dented monthly active users (or MAU) in the third quarter of 2018. Facebook reached nearly 2.27 billion MAUs, missing the analysts' expectations of 2.29 billion MAUs. While Facebook's MAUs declined in Europe to 375 million in Q3 2018 from the second quarter due to the enactment of the GDPR law, it grew sequentially in North America, Asia-Pacific, and the rest of the world and reached 242 million, 917 million, and 736 million monthly users, respectively.