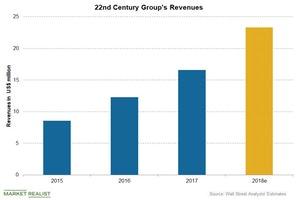 Analyzing 22nd Century Group's Year-to-Date Performance
22nd Century Group
22nd Century Group (XXII) is a plant biotechnology company that's focused on developing technologies to manage the nicotine content in tobacco plants and the cannabinoids in cannabis plants using gene editing and plant breeding technologies.
The chart above compares 22nd Century Group's revenues over the last few years and its estimate for 2018.
Article continues below advertisement
Estimate for 2018
Analysts expect 22nd Century Group to report revenue of $23.3 million in 2018, a 40.3% rise compared to $16.6 million in 2017.
Analysts' recommendations
Analysts expect the stock's price to rise ~337% in the next 12 months. Their consensus recommendation shows a 12-month target price of $11.50 for the stock compared to its price of $2.63 on November 8.
Only one analyst is tracking 22nd Century Group. This analyst recommends a "buy" on the stock. The consensus rating for 22nd Century Group stands at 2.00, which represents a "strong buy" for long-term growth investors as well as for value investors.
Market cap
22nd Century Group's market cap is ~$327.2 million as of November 9. The company has ~124.4 million shares outstanding. Of these, its free float shares total ~108.98 million, nearly 87.62% of its total outstanding shares. Institutions hold ~28.6% of its total shares, while strategic entities own ~12.37%.
The iShares Russell 2000 ETF (IWM) holds 0.01% in 22nd Century Group, 0.03% in Cara Therapeutics (CARA), 0.02% in Corbus Pharmaceuticals Holdings (CRBP), and 0.01% in Insys Therapeutics (INSY).