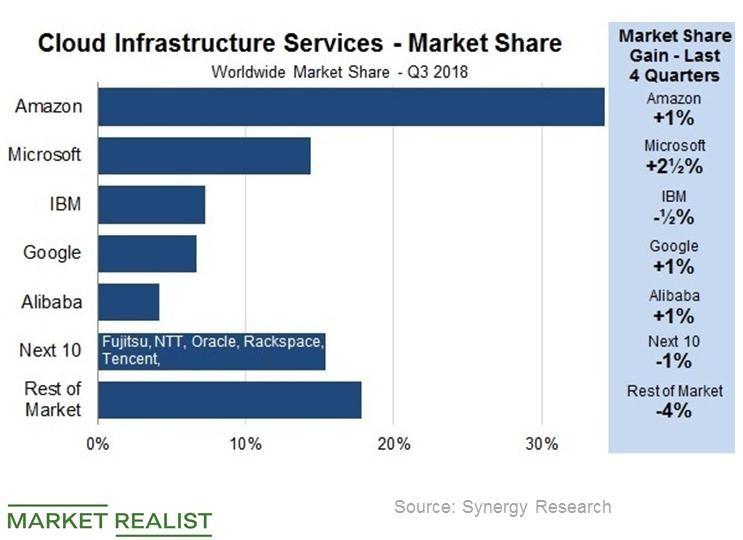 Alibaba Grows Its Cloud Footprint in Europe
First European data center opened in Germany
Alibaba (BABA) has recently opened its first data centers in the United Kingdom as it seeks to expand its cloud footprint in Europe, where the cloud computing market is poised to more than double in five years to more than $52 billion by 2021 from ~$24.1 billion in 2017.
The company opened its first European data center in Frankfurt, Germany, in 2016. It partnered with Vodafone (VOD) to set up its maiden European data center, subsequently signing Vodafone as a reseller of its cloud services in the region.
Article continues below advertisement
Two data center facilities opened
Alibaba says the United Kingdom is its fastest-growing European cloud market, explaining why the company has opened not one but two data centers in the country at the same time. Alibaba's UK data center facilities are located in London.
Alibaba is one of the world's top five cloud computing companies. Including the data centers recently opened in the United Kingdom, the company now operates 52 data center zones in 19 different regions.
Leaders add to their market share
Most of the world's leading cloud companies increased their market shares in the third quarter. Alibaba's global cloud market share rose 1.0% in the third quarter to ~5.0%. Amazon (AMZN) and Google (GOOGL) also grew their cloud market shares by 1.0% each in the third quarter. Microsoft (MSFT) grew its cloud market share by 2.5%, but IBM (IBM) bucked the trend as its market share fell 0.5% in the third quarter.