A Look at Qualcomm's Strategy to Grow Its Non-Apple Business
On Qualcomm's fiscal 2018 fourth-quarter earnings call, CFO George Davis stated that the handset market has weakened over the last year.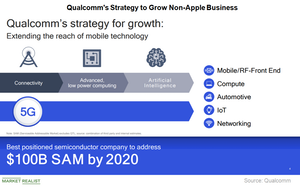 Qualcomm expands its non-Apple business
On Qualcomm's (QCOM) fiscal 2018 fourth-quarter earnings call, CFO George Davis stated that the handset market has weakened over the last year. The company is looking to diversify its revenue streams in two ways: firstly by offering different smartphone technologies, such as RFFE (radio frequency front-end) and fingerprint scanners to increase the number of components per device, and secondly by entering adjacent markets such as connected cars.
Qualcomm continues to offer its Snapdragon 800 processors for premium phones and has added Snapdragon 700 for high-end phones. It's seeing an improvement in its product mix as its Chinese (FXI) customers expand globally, most recently in India and Europe.
Article continues below advertisement
Article continues below advertisement
RFFE
Qualcomm's non-Apple RFFE revenue nearly doubled YoY (year-over-year) in fiscal 2018 driven by growth across all OEMs (original equipment manufacturer) and one full year of revenue from its TDK acquisition.
Qualcomm offers a broad RFFE portfolio that's currently being used by commercial devices such as the Google (GOOG) Pixel 3XL and the Samsung (SSNLF) Galaxy Book2. Qualcomm has secured 80 RFFE module design wins from key handset makers such as Samsung, Google, and OnePlus, which should drive double-digit RFFE revenue growth for it in fiscal 2019. All these design wins have been in the mature 4G (fourth-generation) technology cycle. As the world moves toward 5G (fifth-generation) technology, the RFFE content per device should increase.
Other smartphone technologies
A report from 91 Mobiles citing industry sources stated that Qualcomm would supply ultrasonic fingerprint sensors to Samsung at the end of 2018 and in early 2019. Samsung would have the exclusive rights to these sensors at least until the first half of 2019. In the latter half of the year, Qualcomm's fingerprint sensors are expected to be adopted by other flagship phones.
Automotive communications
Qualcomm is working with several automakers and Tier 1 suppliers to bring its 5G technology to automobiles. It has secured the world's first major 5G design win from an automaker. It's also working with a Chinese automotive supply chain to commercialize LTE-V2X (long-term evolution vehicle-to-everything) technology.
LTE-V2X provides reliable, real-time, direct communication between vehicles and roadside infrastructure to improve automotive safety, traffic efficiency, and autonomous driving.
Next, we'll look at Qualcomm's earnings.