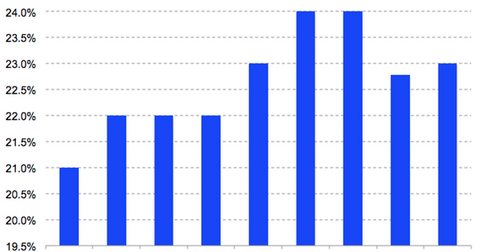 Why Google's Traffic Acquisition Costs Could Continue to Surge
By Sanmit Amin

Updated
Google's traffic acquisition costs rose nearly 20% YoY
Alphabet (GOOG) has seen increasing traffic acquisition costs, which reflect the amount Google pays to drive traffic to its search engine and other services and are a typically a sizable expense.
During the third quarter, Google's traffic acquisition costs rose 19.6% YoY to $6.6 billion, representing 23% of Google's total ad revenue. The search giant has been able to control that percentage over the last couple of quarters.
Article continues below advertisement
Google's payment to Apple is set to surge
However, this amount could increase in the future. According to Goldman Sachs analyst Rod Hall, the amount Google pays Apple (AAPL) to make Google its default search engine in Apple's browser, Safari, will rise from $9 billion in 2018 to $12 billion in 2019. Apple's Safari is used by a significant amount of Americans.
Google's payment to Apple is part of the traffic acquisition costs associated with its distribution partners, which grew 31.4% YoY, reaching $3.2 billion in the third quarter. Google is fueling some of its growth through such expensive deals. Google does not disclose the total amount it pays to Apple.
Alphabet stock has been struggling since July, and concerns of higher traffic acquisition costs, among other factors, have weighed on investors' minds. The stock has fallen nearly 20% since late July.