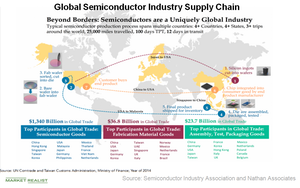 Trump's New Round of Tariffs on Chinese Imports Could Hurt Intel
By Puja Tayal

Nov. 20 2020, Updated 5:03 p.m. ET
Trump imposes more tariffs on Chinese imports
Donald Trump imposed a second round of tariffs on $200 billion in Chinese (FXI) imports on September 24. He also threatened to impose a third round of tariffs on an additional $267 billion in Chinese goods, bringing all Chinese imports under tariffs. With these tariffs, Trump looks to force China to reduce its trade surplus with the United States, improve American intellectual property protection, and give US-based companies greater access to Chinese markets. Several US tech companies, including Apple (AAPL) and Intel (INTC), opposed the second round of tariffs, claiming that it would increase the price of consumer products and hurt American consumers.
Article continues below advertisement
New round of tariffs hurts US tech companies
Several tech companies wrote letters to the US Trade Representative, highlighting their concerns regarding the second round of tariffs. Intel stated that tariffs on consumer products and components such as digital processing units, transmission devices, printed circuit boards, network equipment, and optical fiber cables could increase prices of PCs, laptops, and smartphones. Intel added that tariffs on telecommunication infrastructure equipment could impact 5G (fifth-generation) technology deployment in the United States.
Dell, Cisco Systems (CSCO), Juniper Networks, and Hewlett Packard Enterprise (HPE) stated that tariffs on networking equipment would hurt their margins and lead to US job losses. TechNet stated that tariffs on servers, transmission devices, and other components would hurt all sectors that use cloud computing and data management tools.
Could tariffs bring production back to the United States? 
As most US-based semiconductor companies manufacture or assemble chips in China because of its cheap labor, they would have to pay tariffs on their own goods imported from China.
Trump seeks to encourage US companies to bring production back to their home country by mitigating the cost benefits from manufacturing in China through tariffs. However, high labor costs in the United States may more than offset the benefits of no tariffs and government incentives.
Check out all the data we have added to our quote pages. Now you can get a valuation snapshot, earnings and revenue estimates, and historical data as well as dividend info. Take a look!