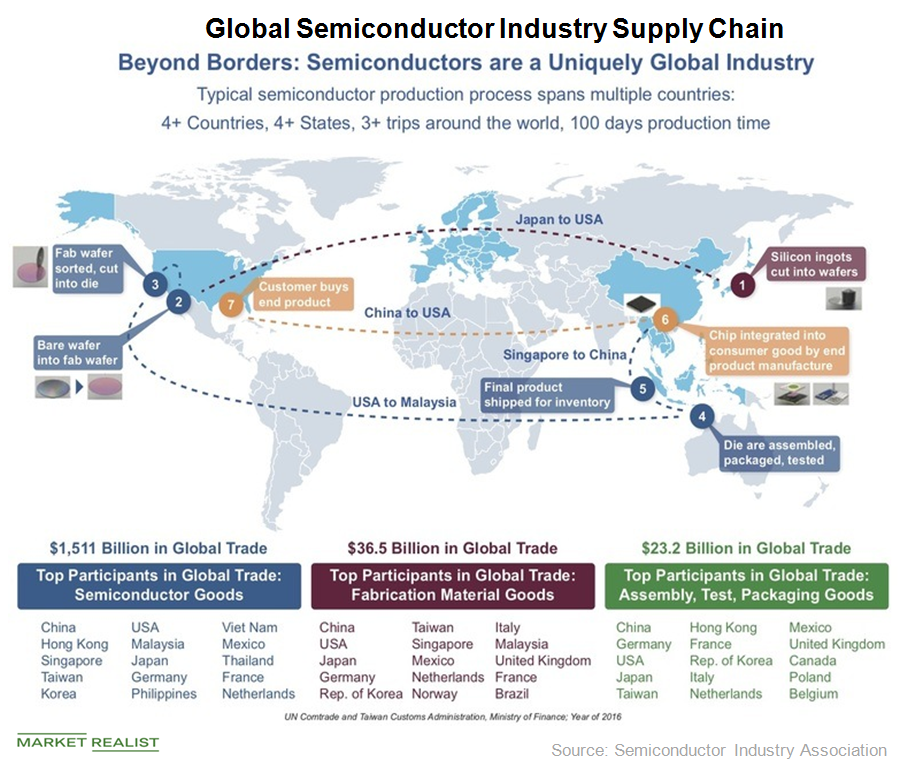 Semiconductor Industry Opposes Trump's Tariffs on Chinese Imports
Semiconductor associations lobby against Trump's tariffs
In the earlier parts of this series, we saw how tariffs could negatively impact US consumers and companies and slow economic growth. Economists, analysts, companies, and industry associations opposed the second round of tariffs on $200 billion in Chinese (FXI) goods.
Among these groups were SIA (Semiconductor Industry Association), SEMI (Semiconductor Equipment and Materials International), and the CTA (Consumer Technology Association). Tech giants Apple and Intel (INTC) also opposed the tariffs.
Article continues below advertisement
Article continues below advertisement
Tariffs not a solution to China's anti-competitive policies
Despite this domestic opposition, President Donald Trump went ahead with the tariffs. The Trump administration stated that tariffs were important as there is no trade agreement that would put an end to China's anti-competitive policies and better protect American intellectual property.
SIA and SEMI supported the administration's objective but stated that tariffs would not end China's unfair trade practices. Instead, tariffs would only hurt US companies and consumers and impact the global economy.
The US semiconductor industry exports semi-finished chips to China for manufacturing, packaging, and testing and imports the finished chips or devices back to the United States. SEMI and SIA stated that tariffs would reduce US exports, increase US companies' business costs, and negatively impact their competitiveness in the international market. Tariffs would ultimately penalize American consumers in the form of higher prices for consumer goods.
Impact on the global supply chain
The Information Technology Industry Council noted that higher business costs would force companies to cut production in the United States and shift manufacturing to countries other than the US and China. For instance, Micron Technology (MU) is shifting its China-based assembly and testing operations to countries other than the United States. This would not serve Trump's other objective of encouraging US companies to bring production back home.
Even Taiwanese ODMs (original design manufacturers) are expected to shift their manufacturing away from China to their home countries. Next, we'll see how tariffs could change the global supply chain.
Check out all the data we have added to our quote pages. Now you can get a valuation snapshot, earnings and revenue estimates, and historical data as well as dividend info. Take a look!