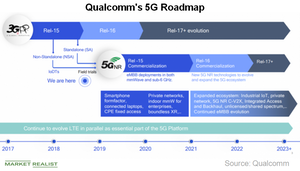 Qualcomm's 5G Efforts to Materialize in 2019
Qualcomm's 5G opportunity
Qualcomm (QCOM) has long been working on the 5G (fifth-generation) technology that's seen it partner with 19 OEMs (original equipment manufacturer) globally.
The company has launched the first and only mobile 5G new radio commercial platform, which comprises the first commercial X50 modem, transceiver, mobile reference design, and radio frequency front end.
Article continues below advertisement
Qualcomm's 5G modem
Qualcomm has made its Snapdragon X50 modem available to smartphone makers. Among the early adopters of this modem are OnePlus, Xiaomi, and Lenovo. At the 4G/5G summit in Hong Kong, Qualcomm's president, Cristiano Amon, stated that he expects 5G-enabled flagship smartphones to arrive in 2019 in two waves: early adopters in the first half and the rest in the second half. Intel (INTC) will be following soon with its own 5G modems.
Qualcomm's 5G antenna module
At the summit, Qualcomm announced a smaller version of its QTM052 millimeter wave antenna module, which it first launched in July. These modules can be paired with Qualcomm's X50 modems and are critical to bringing 5G connectivity to early 5G smartphones. The new version of the module is 25% smaller, and each antenna can be used on 26.5–29.5 GHz (gigahertz), 27.5–28.35 GHz, or 37–40 GHz mmWave (millimeter wave) bands.
The smaller size of the module gives handset makers space and design flexibility to add more battery or reduce the phone's size.
Samsung and Qualcomm partner for 5G 
Samsung (SSNLF) partnered with Qualcomm to create 5G small cells, such as radio equipment and antennas, that can be placed on streetlights or the sides of the buildings to build a dense network. These small cells connect to each other within short distances to boost network capacity and transfer data at high speeds with low latency.
The sub-6 GHz and mmWave bands used in 5G new radio networks need these small cells to deliver a uniform 5G experience, particularly indoors, where data consumption is high. Samsung will begin sampling Qualcomm's FSM100xx 10 nm small cell product in 2020.
It remains to be seen how Qualcomm's 5G solutions will fare in the real world. Meanwhile, the company is looking to resolve its legal and regulatory issues, which we'll look into next.