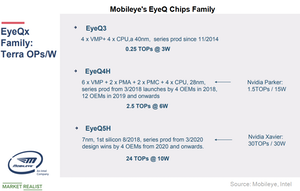 Progress Report: Intel's Mobileye Business
Intel's Mobileye business sees increasing adoption
In the earlier parts of this series, we saw that Intel (INTC) reported record revenues in its IoTG (Internet of Things Group), memory, and Mobileye businesses. Intel acquired the ADAS (Advanced Driver-Assistance Systems) leader Mobileye in 2018 to boost its efforts in the autonomous driving space.
Mobileye reported 37% YoY (year-over-year) growth in the company's second-quarter revenues as the adoption of its ADAS solutions increased. China's (FXI) Internet giant Baidu (BIDU) adopted Mobileye's EyeQ-based Surround Computer Vision kit for its commercial Apollo Pilot project.
Baidu also adopted Mobileye's RSS (Responsibility Sensitive Safety) model to enhance the safety of its Autonomous Driver. German car parts maker ZF selected Mobileye solutions for a global automaker.
Article continues below advertisement
At the Citi 2018 Global Technology Conference, Mobileye cofounder and CEO Amnon Shashua gave an update on the company's performance and the road ahead. He stated that Mobileye has shipped 32 million EyeQ chips to date. Its unit shipments rose 50% YoY in 2017, and the company expects these shipments to rise 30% YoY in 2018.
Mobileye's product roadmap
Mobileye launched EyeQ 4 in 2018 and secured 17 design wins, six of which were from China. The company has 42 ongoing production programs. These production programs last between five to seven years, bringing financial stability. The company has so far launched six EyeQ4 products with driving assist car manufacturers in 2018 and plans to launch two more by the end of 2018.
Shashua stated that EyeQ4 delivers 2.5 TOPS (tera operations per second) of deep learning performance while consuming 6 watts of power. This competes with NVIDIA's (NVDA) Parker, which delivers 1.5 TOPS performance while consuming 15 watts of power.
Mobileye expects to start sampling the next-generation EyeQ5 by the end of 2018. This chip is expected to deliver a tenfold performance boost at 24 TOPS while consuming 10 watts of power. It would power Level 3 and Level 4 automation programs like RoboTaxi.
Shashua stated that Mobileye expects to start programs focused on highway and passenger cars for personal vehicles by the end of 2019 and 2020. It also expects to start programs for RoboTaxi focused on geo-fenced urban areas by the end of 2020 and 2021.
Check out all the data we have added to our quote pages. Now you can get a valuation snapshot, earnings and revenue estimates, and historical data as well as dividend info. Take a look!