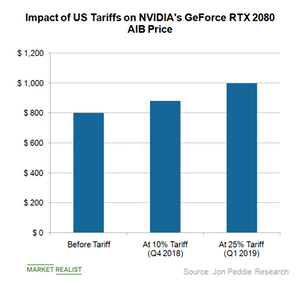 NVIDIA and AMD to See Higher GPU Prices Because of US Tariffs
US tariffs and the GPU market
The second round of 10% tariffs on $200 million in Chinese (FXI) goods, which went into effect on September 24, includes GPUs (graphics processing units). These tariffs could rise to 25% effective January 1, 2019, if no negotiations are resolved between the United States and China.
NVIDIA (NVDA) and Advanced Micro Devices (AMD) are the only two players in the discrete GPU market. They design GPUs and outsource manufacturing to third-party foundries. They also give their GPU designs to AIB (add-in-board) partners who make some changes in the GPUs, manufacture them, and sell them to gamers.
The tariffs would only apply to GPUs made in China, where a majority of GPUs are manufactured. This would create a competitive disadvantage for AIB partners like Gigabyte, Zotac, and Sapphire, which produce GPUs in China. AIB partners manufacturing in Taiwan would get an advantage.
Article continues below advertisement
GPU makers strategy to tackle US tariffs
An NVIDIA spokesperson told CNBC that its AIB partners are shifting their production and assembly from China to countries not affected by tariffs like Taiwan and Mexico. However, the production shift would take some time.
In the meantime, AIB partners would pass the tariff cost to customers. According to Jon Peddie Research, NVIDIA's new RTX 2080 AIB would cost gamers $800 in September, $880 in the fourth quarter, and $1,000 in the first quarter of 2019. The rising prices would impact the holiday season sales.
Impact on NVIDIA and AMD
A decline in GPU sales would force GPU suppliers and AIB partners to cut production, thereby impacting their supply chain. For instance, a production cut by NVIDIA would impact its foundry partner TSMC (TSM) and memory partner Micron (MU). If the supply contract doesn't allow production cuts, the inventory levels of GPU and AIB companies would swell, impacting their margins.
These GPU price increases would particularly hurt NVIDIA, which launched its new GeForce RTX 2080 GPUs at a higher price than its predecessor's launch price. AMD doesn't expect the new tariffs to have a material impact on its earnings.
Next, we'll see how tariffs could impact communication chip companies.
Check out all the data we have added to our quote pages. Now you can get a valuation snapshot, earnings and revenue estimates, and historical data as well as dividend info. Take a look!