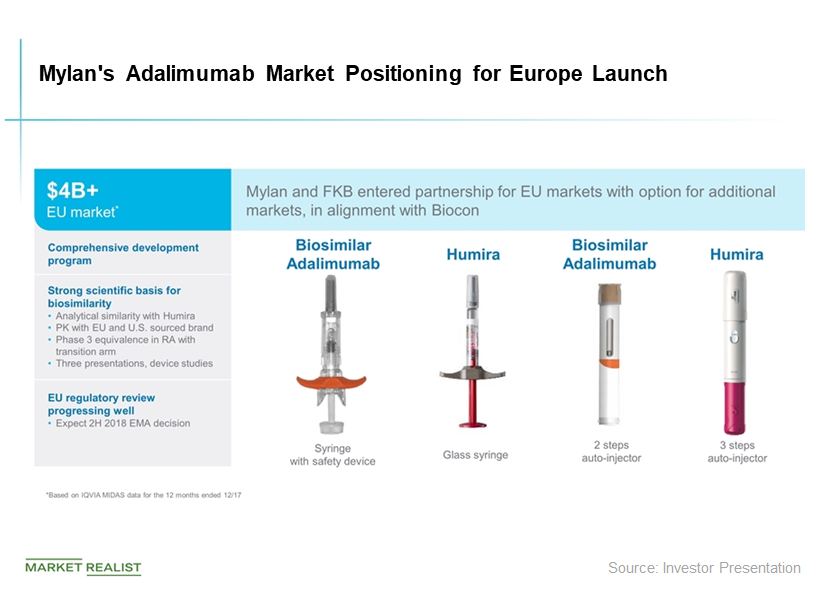 Mylan's Humira Biosimilar Opportunity in Europe
Mylan's biosimilar of AbbVie's Humira approved in Europe
On September 20, Mylan and its partner, Fujifilm Kyowa Kirin Biologics, received the marketing authorization from the EC (European Commission) for Hulio. Hulio is the biosimilar version of Humira (adalimumab), AbbVie's (ABBV) blockbuster drug.
Mylan's biosimilar is now approved for use in all the indications for which Humira is approved, which includes a range of conditions such as Crohn's disease, rheumatoid arthritis, psoriasis, and ulcerative colitis.
For the 12 months ended June 30, Humira generated sales of $4.4 billion in Europe. Humira's US sales came in at $13.0 billion. Total sales registered by AbbVie's Humira for the 12 months ended June 30 reached $19.5 billion.
Article continues below advertisement
Commercialization rights and licensing arrangements for Humira biosimilar
Earlier this year, Fujifilm Kyowa Kirin Biologics entered into a partnership agreement with AbbVie, securing a non-exclusive royalty-bearing license for the sale of the Humira biosimilar in Europe. Mylan was granted an exclusive commercialization license in Europe by Fujifilm Kyowa Kirin Biologics, according to an April agreement.
In Europe, Humira's primary patents expire on October 16. Mylan's Hulio is the fifth Humira biosimilar approved in Europe. Hulio was preceded by Amgen, Sandoz, Boehringer Ingelheim, and Samsung Bioepis. In the United States, Humira has patent protection until 2023. All these players expect to launch their biosimilar versions of Humira soon after the patent expires next month in Europe.
In July, Mylan entered into a license agreement with AbbVie that's expected to begin in July 2023. Mylan was granted commercialization rights for its Humira biosimilar in the United States and other countries, excluding Europe. Mylan is expected to pay royalties to AbbVie when the biosimilar is launched.
In the final part of this series, we'll discuss the recent launch of Mylan's generic version of Baxter International's Brevibloc injection.
Check out all the data we've added to our quote pages. Now you can get a valuation snapshot, earnings and revenue estimates, and historical data, as well as dividend information. Take a look!