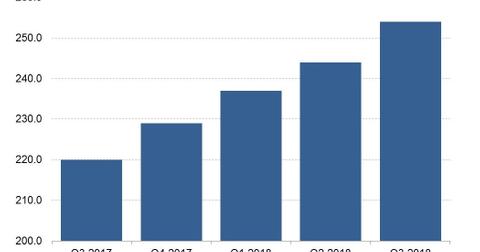 Behind the PayPal–Amex Partnership
By Neha Gupta

Updated
Paying for purchases using reward points
PayPal (PYPL) and American Express (AXP) recently forged a new partnership to improve the digital payment experience for their customers. The new partnership expands the existing relationship between the financial services companies.
Under this partnership, Amex (American Express) customers would be able to pay for purchases from PayPal merchants using reward points earned through Amex's membership program. In addition, Amex customers would be able to send money through Venmo and PayPal to family or friends directly from the Amex mobile app.
Article continues below advertisement
Payment app with a social touch
Venmo is PayPal's youth-oriented mobile payment app with a social aspect. Users can share their Venmo payments and purchases online as they would on social networks such as Facebook.
A few months ago, PayPal teamed up with Mastercard (MA) to release a Venmo debit card that allows consumers to pay with their Venmo balances in stores or withdraw funds from an ATM. Square (SQ) has a similar product called Cash Card, which is tied to its Cash App service. The Square Cash Card is supported by Visa (V).
PayPal serves about 20 million merchants
PayPal and American Express noted that they plan to implement these features throughout the next year. PayPal finished the third quarter with 254.0 million active customers on its platform. These customers include about 20.0 million merchants that use PayPal and Venmo to accept payments. These payments are used primarily for online sales.