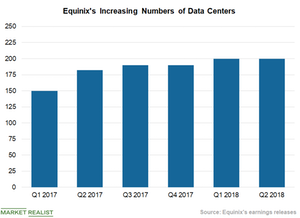 Acquisitions Are Key Growth Drivers for Equinix's Q3 Revenues
By Anirudha Bhagat

Oct. 25 2018, Updated 10:32 a.m. ET
Inorganic growth strategy
Expansion in key markets through acquisitions has been an integral part of Equinix's (EQIX) growth strategy, which has helped it expand its footprint in these markets. In the last three years, the company has almost doubled the size of its business through mergers and acquisitions. The company's total data center count was 200 on June 30, up from 112 at the end of 2015.
Of these data centers, 50 have been added since the beginning of the second quarter of 2017, which increased its global presence in 52 metros from 41 metros. The company's buyouts are bringing in massive incremental revenues. Equinix's 2017 acquisition of 29 Verizon (VZ) data centers contributed $133.0 million to its second-quarter revenues of $1.26 billion.
Article continues below advertisement
Acquisition
Equinix's (EQIX) latest acquisitions include the buyouts of Metronode and Infomart Dallas together for ~$1.6 billion. Apart from bringing in additional revenues and increasing the number of data centers, these acquisitions are expected to help strengthen its position in two separate markets.
Equinix's acquisition of Metronode is expected to help the company penetrate the fast-growing Australian and Asia-Pacific regions. The Asia-Pacific region contributes 21.0% to Equinix's total revenues.
On the other hand, Infomart Dallas is expected to solidify its position in the Latin American market. According to Equinix, this region is expected to be the fastest-growing region for interconnection bandwidth through 2020. The two acquisitions are expected to add $95.0 million to the company's fiscal 2018 revenues.
Equinix has acquired data center assets from several companies, including Zenium, Itconic, IO UK, and ICT-Center AG. These acquisitions are expected to contribute to Equinix's third-quarter revenues. The company planned to incur non-recurring capital expenditures of $1.8 billion–$1.9 billion in fiscal 2018.