Why Cannabis Stocks Are on the Rise
The reason cannabis stocks are rising could be because October 17 is approaching.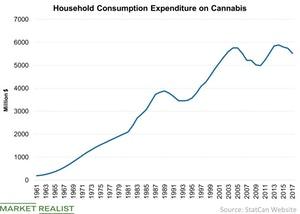 Cannabis going legal in Canada
The reason cannabis stocks are rising could be because October 17 is approaching. It's the date when legalized recreational cannabis will go on sale in Canada for the first time.
But remember, the medical marijuana market has been legal in Canada for years. That market differs from the recreational market in the sense that a user or patient has to have written approval and supporting documents from a medical practitioner to use cannabis. Naturally, that market is smaller than the adult recreational market in which anyone can obtain marijuana. According to Health Canada, the number of patients registered under the ACMPR[1. Access to Cannabis for Medical Purposes Regulations] as of March 2018 was 296,702. That's less than 1% of the Canadian population of 37.3 million.
Article continues below advertisement
Article continues below advertisement
The market potential
It's clear that the recreational cannabis market in Canada is where the high-growth trajectory lies. Let's quantify that to get a better perspective. In 2017, adult Canadians spent 5.7 billion Canadian dollars on cannabis, and 90% of that was illegal and for non-medicinal use. So it's easy to see why investors are excited about the cannabis wave. But let's dig more deeply into the details.
With more than 100 licenses issued by Health Canada to produce cannabis, the market has already gotten crowded. The survival of companies will depend on the strategies they take.
A quick recap
In our article Why You Should Look at This Strategic Roadmap of Cannabis Players, we identified two broad strategies that cannabis companies (HMMJ) such as Canopy Growth (WEED) (CGC), Aurora Cannabis (ACB) (ACBFF), and Hydropothecary (HEXO) are pursuing. Those strategies are cost leadership and product differentiation.
In the next part, we'll look at the strategic directions of some of cannabis's key players.