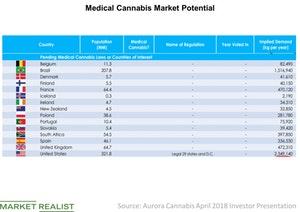 What's the Estimated Market for Medical Cannabis in the US?
By Adam Jones

Sep. 21 2018, Published 7:09 a.m. ET
US market potential
The cannabis market potential in the US is perhaps the most appealing of all to cannabis companies. Aurora Cannabis (ACB) (ACBFF) in its April 2018 investor presentation showed that the estimated market potential for medical cannabis in the US exceeded the markets in 15 countries where medical cannabis laws were pending approval at the federal level.
Article continues below advertisement
A look at the numbers
As the above chart shows, the annual US market potential for cannabis is estimated at 2.3 million kilograms. The second largest market is estimated to be Brazil with 1.5 kilograms of annual demand. The third market was the UK at 0.47 million kilograms annually. These estimates make it easy to see why the market got excited about Tilray's (TLRY) announcement that US regulators will allow it to import drugs for clinical trials.
A noticeable trend in the above chart is the correlation between population and the cannabis demand in kilograms. Naturally, a country with a higher population will have a higher demand in terms of kilograms. This is why emerging markets such as China and India with huge populations have been attractive for global companies.
In its recent MD&A (management discussion and analysis), Canopy Growth (CGC) (WEED) discussed India as one of the countries that is in the process of legalizing medical cannabis (MJ) or exploring legalization. But that is a long shot and may take several years. Before that happens, the US may very well have warmed up to the idea of legalizing cannabis at a federal level.