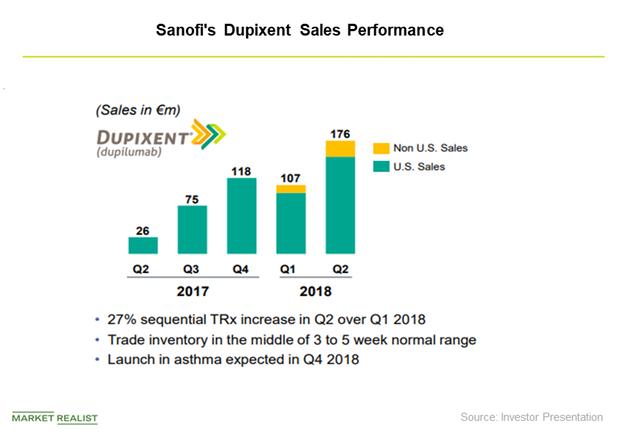 Sanofi's Dupixent: Growth Prospects and Phase 3 Trials
Dupixent's recent performance
Sanofi (SNY) develops Dupixent in collaboration with Regeneron Pharmaceuticals (REGN). It's currently approved for moderate-to-severe atopic dermatitis in adults. The drug is undergoing multiple late-stage trials for various other indications, which, if approved, could expand Sanofi's market opportunities and growth potential for Dupixent.
In the second quarter of 2018, Dupixent sales were 176 million euros. However, the company is recovering from the effect of stocking Dupixent in Q1 2018. Sanofi launched the drug in Japan in the second quarter and will continue with its phased launches in Europe throughout 2019.
Sanofi is extremely positive about Dupixent's future potential and product differentiation.
Article continues below advertisement
Other market opportunities for Dupixent
Sanofi and Regeneron are conducting clinical studies for the treatment of a range of type 2 inflammation conditions with Dupixent. The Phase 3 studies include those being studied for the treatment of asthma, nasal polyps, eosinophilic esophagitis, and pediatric atopic dermatitis for patients aged six to 11 years. A Phase 2 study for the treatment of grass allergy is also being conducted. The plan is also for the drug to be studied for the treatment of chronic obstructive pulmonary disease and food allergy in the future.
Sanofi plans to launch Dupixent in more than 20 geographical markets in 2018 and anticipates its launch in 16 other countries in the second half of fiscal 2018. It expects to launch Dupixent for asthma in the fourth quarter of fiscal 2018.
Be sure to check out all the data we've added to our quote pages. Now you can get a valuation snapshot, earnings and revenue estimates, and historical data, as well as dividend information. Take a look!