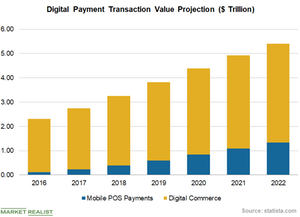 Rising Digital Payment Market to Support Visa's Long-Term Growth
Digital payment market
Visa (V) is poised to benefit from the growing trend of cashless transactions around the world mainly driven by increased mobile and Internet penetration and rapidly growing e-commerce as well as POS (point-of-sale) transactions. The rapid adoption of digital payment would likely increase the usage of Visa's products. Decreased cost of digital payment acceptance is another factor that could fuel Visa's growth.
Article continues below advertisement
Article continues below advertisement
According to a research report from Statista, the total global digital payments transaction value is likely to reach ~$5.41 trillion in 2022 from ~$2.75 trillion in 2017. This represents a five-year compound annual growth rate (or CAGR) of 13.5%. For 2018, the research firm expects the digital payment transaction value to grow 18.6% year-over-year and reach $3.27 trillion.
The majority of growth will likely continue to be mainly driven by increased digital commerce transactions. According to Statista, the digital commerce transaction value will reach $4.08 trillion in 2022 from $2.52 trillion in 2017.
With a sustained focus on investing in technological innovations and the rapid adoption of digital payment platforms, payment processing companies like Visa, Mastercard (MA), PayPal (PYPL), and Amazon's (AMZN) Amazon Pay could benefit.
Indian market looks promising
Visa's management has a positive outlook on India due to its strong issuing partners and significant market share. The Indian digital payment market got a healthy boost after the country's November 2016 demonetization initiative.
Since then, Visa has witnessed a sharp uptrend in its transactions. Going forward, with the Indian government's effort to promote digital payment, Visa is likely to continue to register growth in the number of transactions as well as transaction value.
According to a Credit Suisse report, the digital payment market in India is expected to increase fivefold and cross the $1 trillion mark by 2023 from the current level of $200 billion. As one of the leading payment processing companies, Visa stands to benefit substantially from the robust growth in the digital payment market.
Visa makes up ~5.2% of the Amplify YieldShares CWP Dividend & Option Income ETF (DIVO).