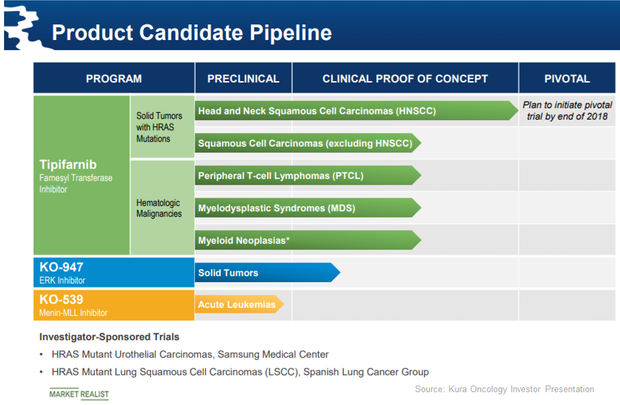 Precision Medicine Oncology Pipeline Is Key for Kura Oncology
Kura Oncology target price
Kura Oncology (KURA) is a clinical-stage biopharmaceutical company focused on advancing its research pipeline of precision medicine targeting genetically-defined hematologic malignancies and solid tumors. The company has reported returns of 11.76% YTD (year-to-date) in 2018. Kura Oncology has reported returns of 0.59%, -12.31%, -7.57%, and 37.90% in the last week, the last month, the last quarter, and the last year, respectively.
Of the seven analysts covering Kura Oncology in September, four have rated the company as a "strong buy," and three have rated it as a "buy."
Article continues below advertisement
The 12-month consensus analyst recommendation for Kura Oncology on September 23 is a "strong buy." The 12-month consensus target price for Kura Oncology is $30.33, which is 77.37% higher than the company's closing price on September 21. The company's last closing price of $17.10 is 46.14% higher than its 52-week low of $11.70 and 28.82% lower than its 52-week high of $24.02.
The above diagram highlights the research pipeline of Kura Oncology, which is the key growth driver for the company in 2018.
Tipifarnib development strategy
Kura Oncology reported durable antitumor activity for the Phase 2 clinical proof-of-concept study that evaluated tipifarnib in HRAS mutation positive head and neck squamous cell carcinoma indication. The company now plans to initiate the enrollment of patients in the pivotal AIM-HN trial for tipifarnib by the end of 2018.
Kura Oncology is also focused on expanding the label of tipifarnib in other oncology indications, such as acute myeloid leukemia, lung squamous cell carcinoma, peripheral T-cell lymphoma, and myelodysplastic syndromes. Thereafter, the company aims to manage the life cycle of tipifarnib by studying this drug across earlier lines of therapy and in combination with other agents across multiple indications. The company also aims to study next-generation farnesyltransferase inhibitors as novel cancer therapeutics.
In the next article, we'll discuss growth trends for Scholar Rock Holding in greater detail.