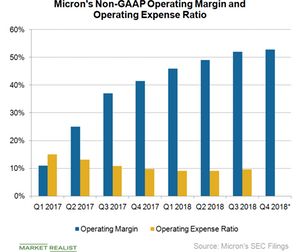 Micron's Strategy to Improve Its Operating Profit
By Puja Tayal

Updated
Operating leverage
Micron Technology's (MU) management has been making structural changes to its business to meet the changing needs of the data economy. Micron has transitioned from a commodity company to a product company, which is focusing its R&D (research and development) efforts on high-value memory solutions. This transition has made inventory and supply management more complex, calling for optimization.
Micron undertakes its R&D activities through a joint venture with Intel (INTC), which helps it reduce its R&D spending. However, the company ended this partnership with Intel for 3D NAND and is separately building 3D-XPoint based products, which it expects to launch by the end of 2019.
Article continues below advertisement
Operating profit
The focus on high-value solutions, cost competitiveness, and inventory and supply chain optimization has helped Micron maintain its operating expense ratio at or below 10.0%. This also helped it improve its operating profit by $6.0 billion between fiscal 2016 and fiscal 2018. Its non-GAAP operating margin improved from 7.0% in the fiscal first quarter of 2016 to 52.0% in the fiscal third quarter of 2018.
Micron believes it has the potential to bring another $3.0 billion improvement in operating profit over the next three years. It plans to do so by reducing the cost gap with Samsung (SSNLF) and SK Hynix and increasing the mix of high-value solutions.
Micron's fiscal Q4 2018 earnings estimates
For the fiscal fourth quarter, Micron expects its non-GAAP operating expense ratio to stand at 9.0% and its operating margin to stand at 52.8%. It expects its non-GAAP EPS to rise 4.8% sequentially and 63.0% YoY (year-over-year) to $3.30. Analysts expect the company to report EPS of $3.33.
Going into fiscal 2019, Micron's profit margins and EPS are expected to decline if memory prices fall. Micron's management stated that the memory market has undergone a structural change, which has reduced its cyclicality and made demand more secular. The company has also improved its cost competitiveness and increased exposure to high-value solutions to mitigate the impact of declining memory prices on its earnings.
Higher profit margins improved the company's overall efficiency. We'll look into this in the next article.
Check out all the data we have added to our quote pages. Now you can get a valuation snapshot, earnings and revenue estimates, and historical data as well as dividend info. Take a look!