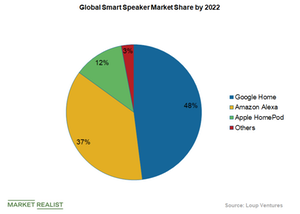 Is Amazon's Alexa Losing Popularity to Google Assistant?
Home speaker market
Amazon's (AMZN) Alexa-powered Echo has been competing with Alphabet's (GOOGL) Google Home devices powered by Google Assistant in the smart home speaker market.
Apple's HomePod entered the home speaker market late in February, in comparison to Echo and Home, which were launched in 2014 and 2016, respectively.
Article continues below advertisement
Alexa's market share is falling
Amazon is currently the leader in the smart speaker space, but analysts predict that its share has been falling as competitors including Google, Apple, and Facebook (FB) are trying to gain from the home speaker market.
Though Amazon, Google, and Apple do not report the sales of their respective Echo, Home, or HomePod devices, as per reports, the demand for Echo devices has fallen significantly in the past year. On the other hand, Google Home devices are reportedly doing well and could surpass Amazon Echo devices in terms of worldwide sales.
Alexa is allegedly better at selling things, while Google has a better command over natural language processing owing to its search engine platform. Apple's HomePod is also catching up, as its share of the smart speaker market roughly doubled to 6% between March and June. In comparison, Amazon Echo holds a ~70% share, while Google owns 24% as of the same period. Samsung is also bringing the competition with its newly launched smart speaker.
According to the estimates of Strategy Analytics, Amazon's global market share dipped from 76% in the second quarter of 2017 to 41% in the second quarter of 2018, with Google's share rising to nearly 28% from 16.1% in the same period.
eMarketer expects Amazon Echo's market share to fall to 60.8% by 2020 from 66.6% in 2018. On the other hand, Google Home devices are expected to rise from a market share of 29.5% in 2018 to 32.9% in 2020. In fact, according to Loup Ventures, Google Home is expected to lead the global smart speaker market in 2022 with a 48% share, followed by Amazon's Alexa and Apple's HomePod with market shares of 37% and 12%, respectively.