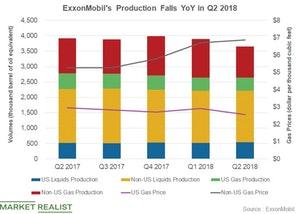 How Was ExxonMobil's Upstream Performance in Q2 2018?
ExxonMobil's upstream production
ExxonMobil (XOM) produced 3.7 MMboepd (million barrels of oil equivalent per day) from its worldwide operations in the second quarter.
Its production fell 7.0% YoY (year-over-year) due to divestments and maintenance. Of XOM's total output, 2.7 MMboepd, or 73%, came from its international operations.
Article continues below advertisement
Article continues below advertisement
ExxonMobil's production mix and realizations
Liquids accounted for 2.2 MMboepd, or 61%, of XOM's total production in the second quarter. Crude oil prices rose YoY in the quarter. In the same period, XOM's average crude oil realizations in the United States rose to $65 per barrel from $44 per barrel in the second quarter of 2017. At $66 per barrel, XOM's international crude oil realizations stood marginally higher than its domestic realizations in the second quarter.
But XOM's natural gas realizations from its international operations were more than double those from its US operations. Average gas realizations in the United States stood at $2.6 per kcf (thousand cubic feet) in the second quarter, but international operations yielded $6.9 per kcf.
XOM's upstream reserves
ExxonMobil has a robust and growing upstream portfolio. Overall, ExxonMobil has a portfolio of ~100 projects at various stages of development.
Furthermore, the company has vast oil and gas reserves, which should feed its production growth beyond 2020. ExxonMobil's proved reserves stand at 21.2 billion Bboe (barrels of oil equivalent). Comparatively, CVX, RDS.A, and BP have reserves of 11.7 Bboe, 12.2 Bboe, and 18.4 Bboe, respectively.
Read the next article to learn about XOM's downstream operational performance.