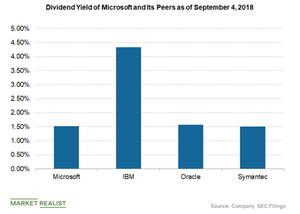 How Is Microsoft Returning Value to Shareholders?
Microsoft's dividend payments
Tech giant Microsoft (MSFT) has been rewarding its shareholders with dividend payments. The company has raised its annual dividend for the last 14 years. Microsoft usually announces a dividend hike in mid-September every year. The company has been returning cash to investors and has raised its annual dividend by an average of 14% since the financial crisis of 2009.
Article continues below advertisement
Morgan Stanley analyst foresees growth
According to a Morgan Stanley (MS) report, Microsoft investors expect an above-average double-digit dividend raise in September. According to Morgan Stanley's analyst Keith Weiss, the company plans to announce an above average dividend increase in September of over 20%. The analyst predicts that the company's investors have confidence in the company's growth momentum and expect an increase in the dividend yield of above 2%. The analyst also maintains his "overweight" rating and a price target of $130 on Microsoft stock.
In 2017, the company raised the dividend by 7.7% to an annualized dividend of $1.68 per share. The annualized dividend of $1.68 per share represents a dividend payout of 39.5% and a yield of 1.51%. In comparison, Microsoft's peers IBM (IBM), Oracle (ORCL), and Symantec (SYMC) have dividend yields of 4.33%, 1.56%, 1.50%, respectively, as of September 4.
Share buybacks
Microsoft also has a share repurchase program in place, which is driven by the company's robust free cash flow trend as well as strong revenue growth. However, the share repurchase growth has been decelerating recently. Microsoft's share buybacks in fiscal 2018 stood at $10.7 billion versus $11.8 billion in fiscal 2017. The acquisition of GitHub in June was to blame for the slowdown in its share repurchases activities.
At the end of June, Microsoft had remaining shares worth $28.0 billion to be repurchased under its $40.0 billion buyback program.