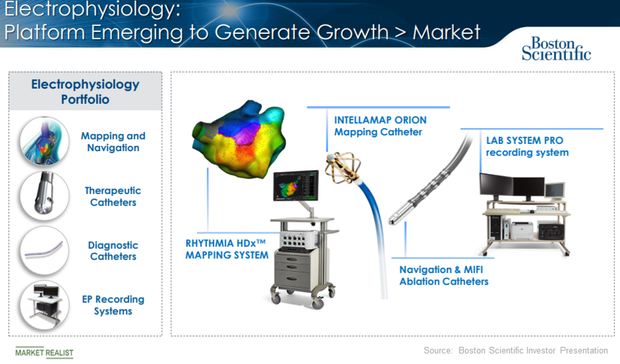 Electrophysiology Is Expected to Be a Major Asset for BSX in 2018
Electrophysiology growth trends
In the second quarter of 2018, Boston Scientific's (BSX) electrophysiology business reported revenue of close to $79 million, a YoY (year-over-year) rise of ~16%.
The company expects its electrophysiology business to be its second-fastest growing business after neuromodulation in the second half of 2018. Historically, the electrophysiology market has demonstrated YoY growth in the mid-teens range.
While the Rhythmia HDx mapping system has been a major driver of the company's electrophysiology business's sales, Boston Scientific has also witnessed the successful commercial launch of its DirectSense technology and IntellaNav MiFi OI cardiac ablation catheters in the European market.
Boston Scientific's acquisitions of Cryterion Medical and Apama Medical have positioned it as the first company to offer both cryothermal balloon-based and radiofrequency (or RF) single-shot balloon-based therapies for treating atrial fibrillation patients through pulmonary vein isolation.
Boston Scientific expects to launch these platforms in Europe by the end of 2019. The company expects to benefit from these ablation therapies because they are complementary to its other electrophysiology offerings, such as its Rhythmia HDx mapping system and its recently launched catheters.
Article continues below advertisement
Cardiac rhythm management trends
In the second quarter, Boston Scientific's cardiac rhythm management (or CRM) business reported revenue of close to $494 million, a YoY rise of ~1%. The company witnessed robust demand for its defibrillators driven by the solid launch of the RESONATE family of high-voltage devices across the world.
This, coupled with increasing demand for HeartLogic heart failure alert technology and MRI-compliant EMBLEM S-ICD, is expected to boost the company's CRM revenues in the coming quarters. HeartLogic has managed to impress physicians, as it's the only FDA-approved predictive diagnostic that can provide an alert about a probable heart failure more than 30 days before the event. Additionally, HeartLogic also helps in reducing physician effort, as physicians would otherwise need to constantly monitor the data of their patients.
In the next article, we'll discuss more growth drivers for Boston Scientific's CRM business.