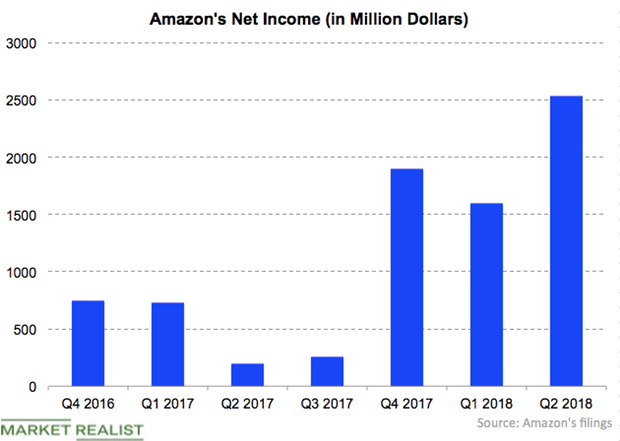 Amazon's US Ad Revenue Is Eating Up Facebook and Google
Amazon's ad business is growing rapidly
Amazon (AMZN) operates its core e-commerce business on very thin margins. However, its cloud computing and advertising businesses are not only lucrative but also growing rapidly.
That has led to a surge in Amazon's net income in recent quarters, as you can see in the graph below. In the second quarter, its ad business grew 129% year-over-year to $2.19 billion.
Lately, Amazon has been increasing the number of sponsored ads related to a user's search on its platform. Users are increasingly using Amazon rather than Google for their product searches.
Article continues below advertisement
eMarketer expects Amazon to be third in US digital ad dollars
According to the latest research by eMarketer, Amazon is taking a larger share of US digital ad space. eMarketer revised its annual US digital ad estimates and now expects Amazon to rake in $4.61 billion in ads this year in the United States compared to the previous projection of $2.89 billion.
eMarketer expects Amazon to take third place in the space this year, behind Alphabet's (GOOG) Google and Facebook (FB).
Amazon is now expected to corner 4.15% of US online ad dollars. Facebook's and Google's market shares are estimated to decline. By 2020, eMarketer expects Amazon to eat up 7% of the total US digital ad dollars.