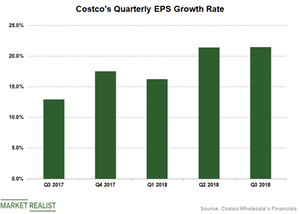 Will Walmart and Target's Digital Initiatives Hurt Costco?
Costco remains unfazed
Costco (COST) has been growing its sales and earnings at a stellar rate. The company hasn't been fazed by the growing threat from e-commerce giants. Costco's top line has grown at an average rate of 11.9% in the past five quarters. On average, the company's adjusted EPS increased 17.9% during the same period.
Costco has a strong set of numbers considering the heightened competitive landscape. Costco's high membership renewal rates and continued investment in price are driving transactions and the ticket size. Sales leverage, tight control on overhead costs, and the lower effective tax rate support the bottom-line growth rate.
Despite Costco's strong performance, rivals adding time and money-saving services make analysts a bit cautious on Costco. Although the company's top and bottom line are projected to mark a year-over-year improvement in fiscal 2019, the growth rate is expected to moderate.
Article continues below advertisement
Article continues below advertisement
Rivals' digital offerings
Walmart (WMT) and Target (TGT) are offering multiple fulfillment options for online orders. The options are gaining immense adoption among shoppers. Walmart is quickly expanding its online grocery pickup services. The company is also offering doorstep delivery and pickup discounts. Target's curbside pickup and Restock program are popular among customers, which helps the comps growth rate.
Since Walmart and Target match Amazon's (AMZN) online services, the e-commerce giant acquired Whole Foods. Recently, Amazon announced curbside pickup services in less than 30 minutes through Whole Foods stores. Buying groceries online and picking them up at the store is gaining traction.
Costco partnered with Instacart to offer grocery delivery services. However, Costco lags Walmart and Target on digital initiatives. Costco could have a hard time grabbing digital market share amid consumers' shift towards e-commerce platforms.