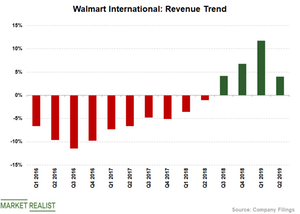 What's Driving Walmart's International Sales?
By Amit Singh

Aug. 20 2018, Updated 10:31 a.m. ET
Walmart's international business sees growth
Walmart's (WMT) international business continued to perform well and reported healthy growth during its fiscal second quarter of 2019. The expansion of its e-commerce offerings such as grocery pickup, price investments, and growth in private brands is driving its top line.
In the fiscal second quarter, sales for Walmart's international business increased 4% to $29.5 billion due to growth in four of its largest markets, including Mexico, Canada, China, and the United Kingdom. However, currency headwinds, the exit from Brazil's first-party e-commerce business, and its Suburbia divestiture remained a drag.
Article continues below advertisement
Walmart revamped its international business by scaling back operations in the regions where growth remains low. It's expanding in fast-growing markets such as China and India. Its strategic initiatives are gaining traction and are expected to enhance sales in its international business in the coming quarters.
Sales by regions
Walmart's net sales in the Walmex region (Mexico and Central America) increased 7.3%, led by higher comps (+5.4%). In Mexico, comps improved 6.5% on a two-year stacked basis. Omnichannel offerings and the launch of a new online grocery platform are driving sales in the region. Ticket size improved 4.9%, while traffic increased 0.5% in the Walmex region.
In China, Walmart's net sales increased 4.3%, while comps improved 1.5%, led by higher ticket size. Management stated that it marked an improvement in the underlying business for both Hypermarket and Sam's Club. Walmart also expanded its one-hour delivery service to an additional 19 JD Daojia stores during the reported quarter, taking the total count to 200 stores offering the service.
Net sales grew 2.8% in Canada, reflecting healthy comps growth (+2.5%). Traffic increased 1.5%, while ticket size rose 1.1%, driven by the expansion of online grocery pickup services.
In the United Kingdom, net sales increased 2.8%, driven by price investments and omnichannel offerings. However, a calendar shift in the Easter holiday remained a drag.