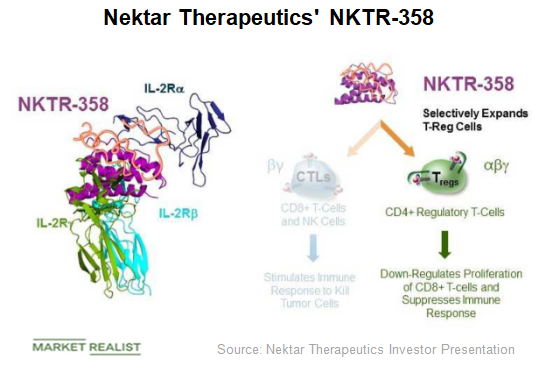 What Does Nektar Therapeutics' Valuation Trend Indicate?
Immunology program
Under its immunology program, Nektar Therapeutics (NKTR) is developing NKTR-358 in collaboration with Eli Lilly and Company (LLY).
The initial data from the currently ongoing first-in-human Phase 1 trial of the drug have demonstrated dose-dependent increases in T regulatory cell levels with no increase in conventional T cells or NK cells.
Nektar Therapeutics also started dosing patients with systemic lupus erythematosus in a Phase 1 Part B multiple ascending dose study of NKTR-358 in May. Nektar expects to present the initial data from the Phase 1 trial and the data from the Part B trial in the first half of 2019 and the second half of 2019, respectively.
Article continues below advertisement
Valuation metrics
In the past 52 weeks, Nektar Therapeutics stock has delivered strong returns to investors. From $17.98 on August 17, 2017, Nektar shares rose to a high of $109.32 on March 9, 2018. Subsequently, Nektar stock corrected to the $47 level in July, and since then, it has recovered to its current level of $59 in August.
Nektar Therapeutics' EV (enterprise value) is $9.31 billion, and its EV-to-revenue ratio is 29.01. Its price-to-sales ratio stands at 31.87. Its long-term debt-to-equity ratio stands at 0.13.
Its current ratio, a metric of how effectively it can meet its short-term obligations, stands at 19.70. In comparison, the current ratios of its peers Alkermes (ALKS), Innoviva (INVA), Ironwood Pharmaceuticals (IRWD), and Progenics Pharmaceuticals (PGNX) stand at 2.90, 26.40, 2.90, and 6.30, respectively.