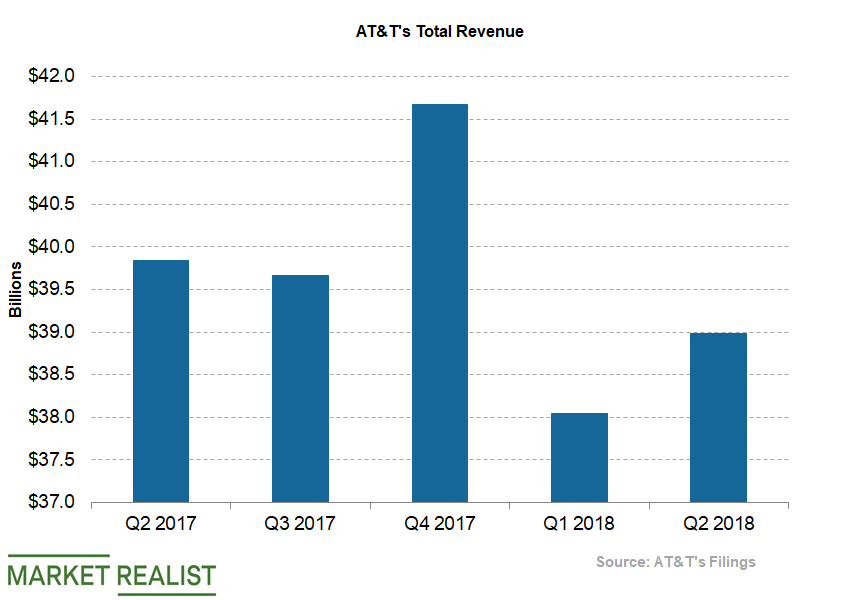 The AT&T–Time Warner Merger's Strategic Benefits
By Ambrish Shah

Aug. 14 2018, Updated 10:30 a.m. ET
Time Warner acquisition to benefit AT&T
AT&T's (T) merger with media conglomerate Time Warner could be a win-win situation for both companies. Whereas the financial benefits of the deal are restricted, the strategic implications are more evident. The deal is set to grant AT&T access to Time Warner's high-quality content, ramping up its competition against growing digital rivals. Also, Time Warner would gain access to AT&T's extensive customer base and wireless, video, and fixed broadband distribution network. The merger of these two telecom-media behemoths could also benefit customers.
Article continues below advertisement
AT&T believes that the Time Warner acquisition could provide robust viewership data and analytics, which could be leveraged for targeted advertising. AT&T, which has already implemented targeted advertising, saw its advertising business grow at a double-digit rate to $461 million in the second quarter. Additionally, AT&T noted that the deal could improve its content creation, as Time Warner's media creation team could make better-informed decisions about what content to create and for which platforms.
Diversifying revenue streams
The above graph shows AT&T's total revenue over the past few quarters. In the second quarter, AT&T's revenue fell ~2.1% YoY (year-over-year) to $39.0 billion. Its merger with Time Warner is seen as another attempt by AT&T to pursue revenue growth outside the traditional US wireless business, where competition has intensified. Smaller competitors T-Mobile (TMUS) and Sprint (S) are striving to win over subscribers from AT&T and Verizon (VZ) with disruptive pricing techniques.
In the second quarter, Verizon's revenue rose ~5.4% YoY to $32.2 billion, and T-Mobile's grew ~3.5% YoY to $10.6 billion. Meanwhile, Sprint's revenue fell ~0.4% YoY to $8.1 billion in Q1 2018 (ended in June).